So the storm raged on last night for quite a while. The entire night actually. And at a certain point I could not sleep anymore.
It felt like the wind had taken hold of our house, and everytime a heard a large noise, I was sure it was our huge trampoline in the garden being smashed into houses and cars down the road. I could feel the pain from embarrassment and insurance claims already.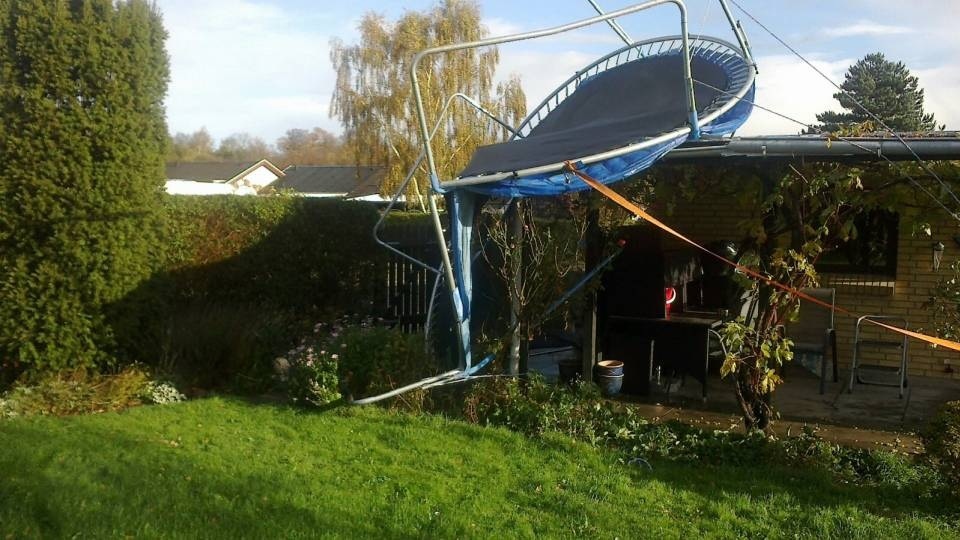 ( – just pointing out that this is not our trampoline – or house, but that was how it looked in my mind after watching too many trampolines fly hazardously away in the storm on the news.)
And that is not a great picture to be stuck with from 1 to 4 am.
For a few hours I could not find rest at all, even though I tried to calm myself thinking that it had already held against the worst part of the storm. As well as the last storm we had. And that it was properly secured by the massive trunks Alan had put under its construction when we first got it.
It's just that silly way, when a thought gets into your mind and simply won't leave. Very annoying.
I was thinking whether I could run out into the garden and secure it extra with some rope, but not really knowing if we had any rope it never went any further… And I was seriously afraid of being out there anyways. It was scary enough to be inside the house..
In the morning luckily all was well. And I did manage to sleep for a few hours.
Now it's just really windy and I took Roxie for a trip to the library to not listen to the creaks and noise of our house. The worst bit is over. Now there's hopefully just a calm and safe weekend to look forward to.