I like to change things around in the house. Maybe it's what I come from; my mum painting the rooms at home a new turquoise color or moving furniture around, whenever she could get to it, or maybe it's just restlessness, or perhaps procrastinating when I actually ought to do something more useful. Like writing a project for school perhaps.
Last Friday Jolina was ill, and had to stay home from kindergarten. She was not that ill, it seemed to be just a quick bug, but I did not want to bring her into kindergarten, in case it would come back.
I had my exam to write, and Alan needed some things done too, but we decided to skip most of that, and work on one of my house-ideas while spending time with Jolina.
Good call.
And quite lucky we had to keep her at home. If not, we would never have gotten this done.
When we moved into the house four years ago, I built this daybed out of some wood and two ikea Stolmen drawers. It has been perfect as a little cosy corner, an extra bed, and also for storage. Oh yes, and when I say I built it, it's almost true. I made the planning and hammered in the nails. Only got my cousin to help me with the big saw. So quite proud of myself there..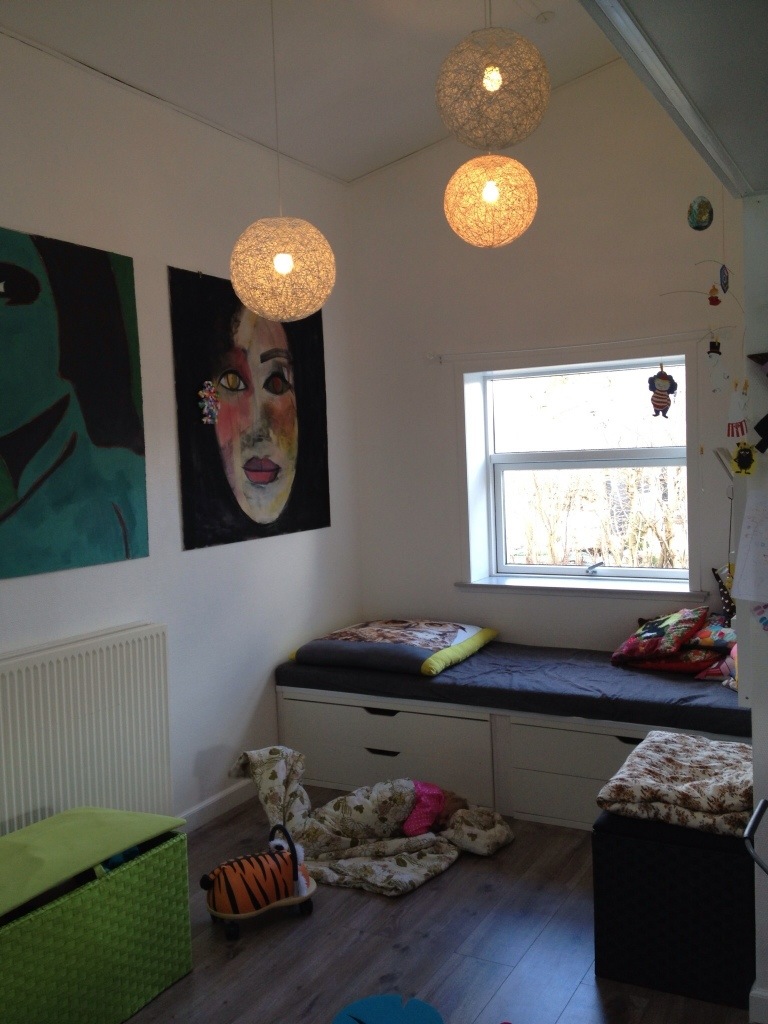 It's been great, but I wanted to change it a bit. I thought it would be smart to move it further out in the room by adding a corner, and then make a long, narrow desk there as well, for homework and creativeness with the girls. Oh and mess of course. Who am I kidding. We have lots of mess. Piles of books, magazines, papers. Some of the papers probably important, if I could find them.
The aim was to use wood we already had in the garage and still use the two drawers that are just awesome.
So I made this new plan.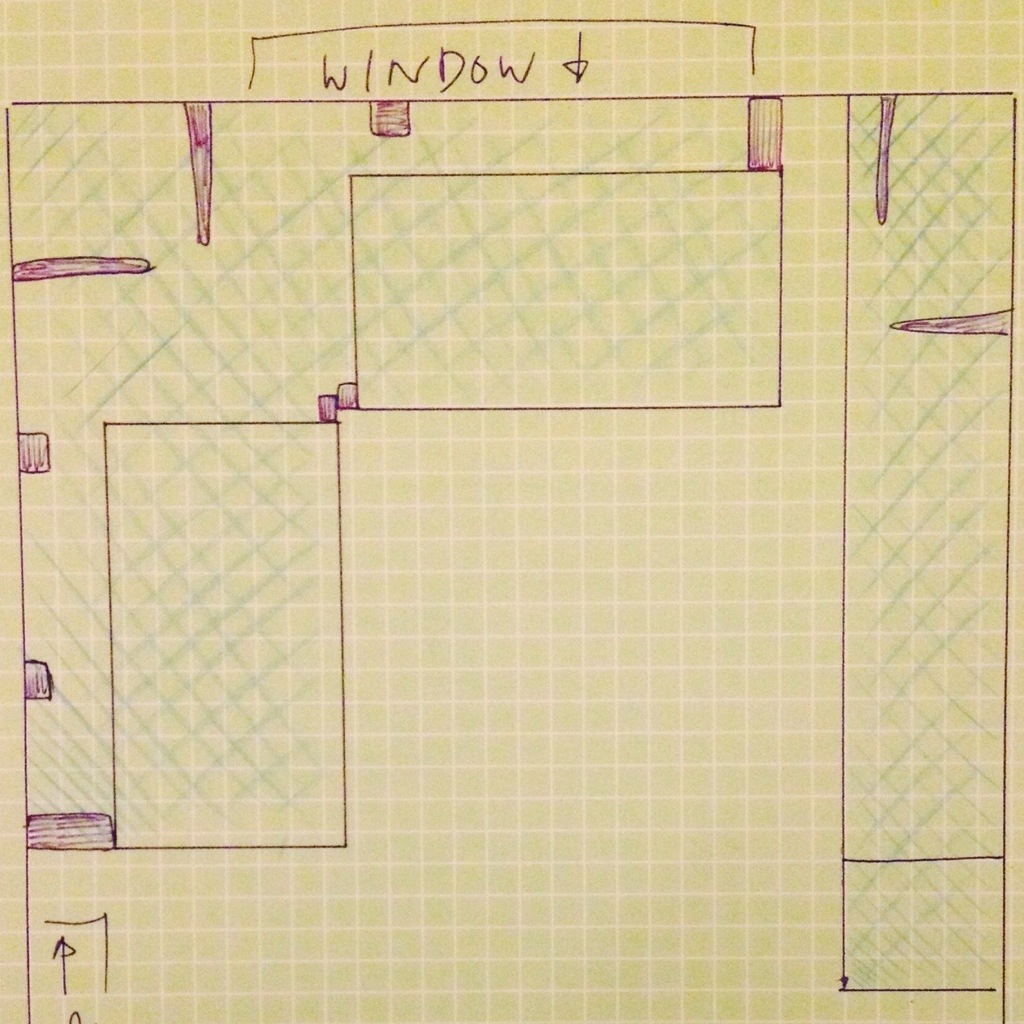 And since Alan was home, he got to help with the blocks of wood that needed sawing. And making sure they were drilled in place. But a lady knowing her drill and her saw could do it too. Just sayin. Feminism and all.
Jolina just helped with some measuring and overall cuteness. She had fun. Helping her daddy with the tools is one of her favorite things.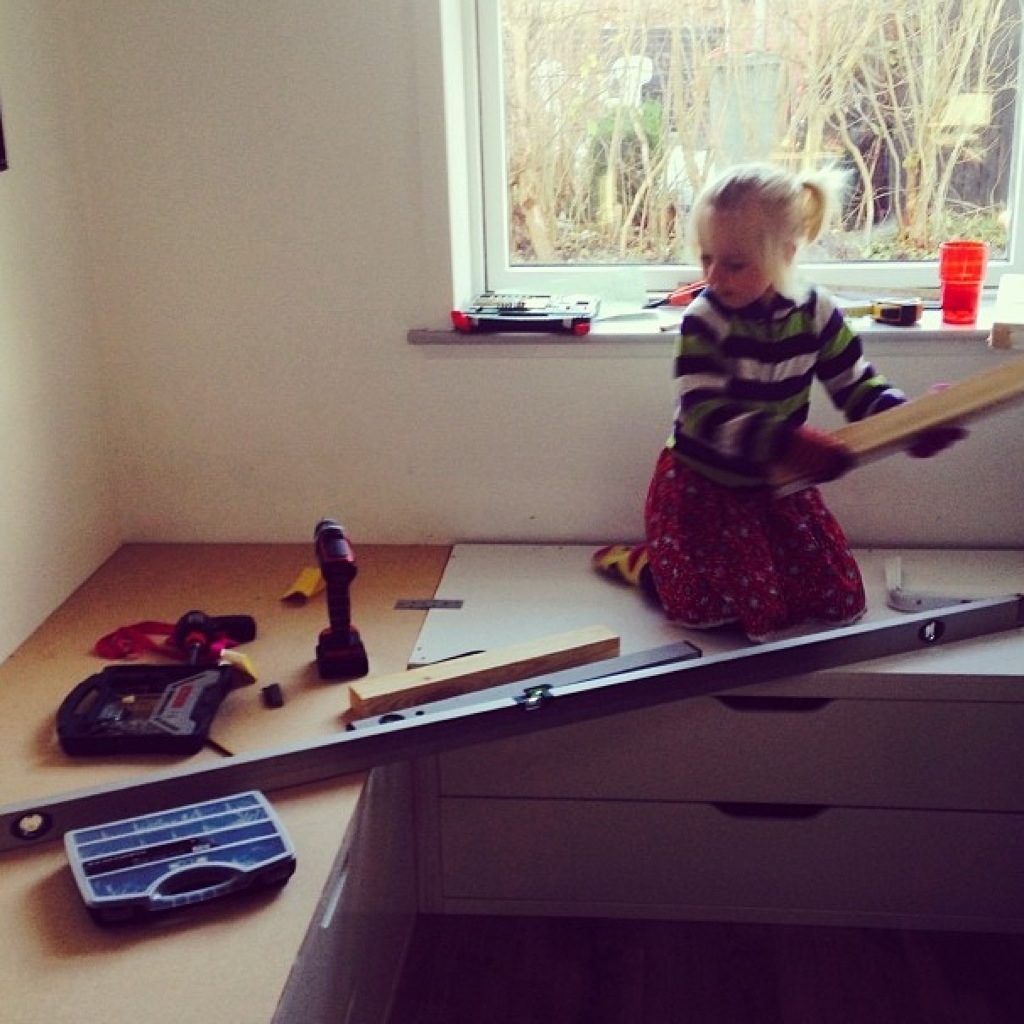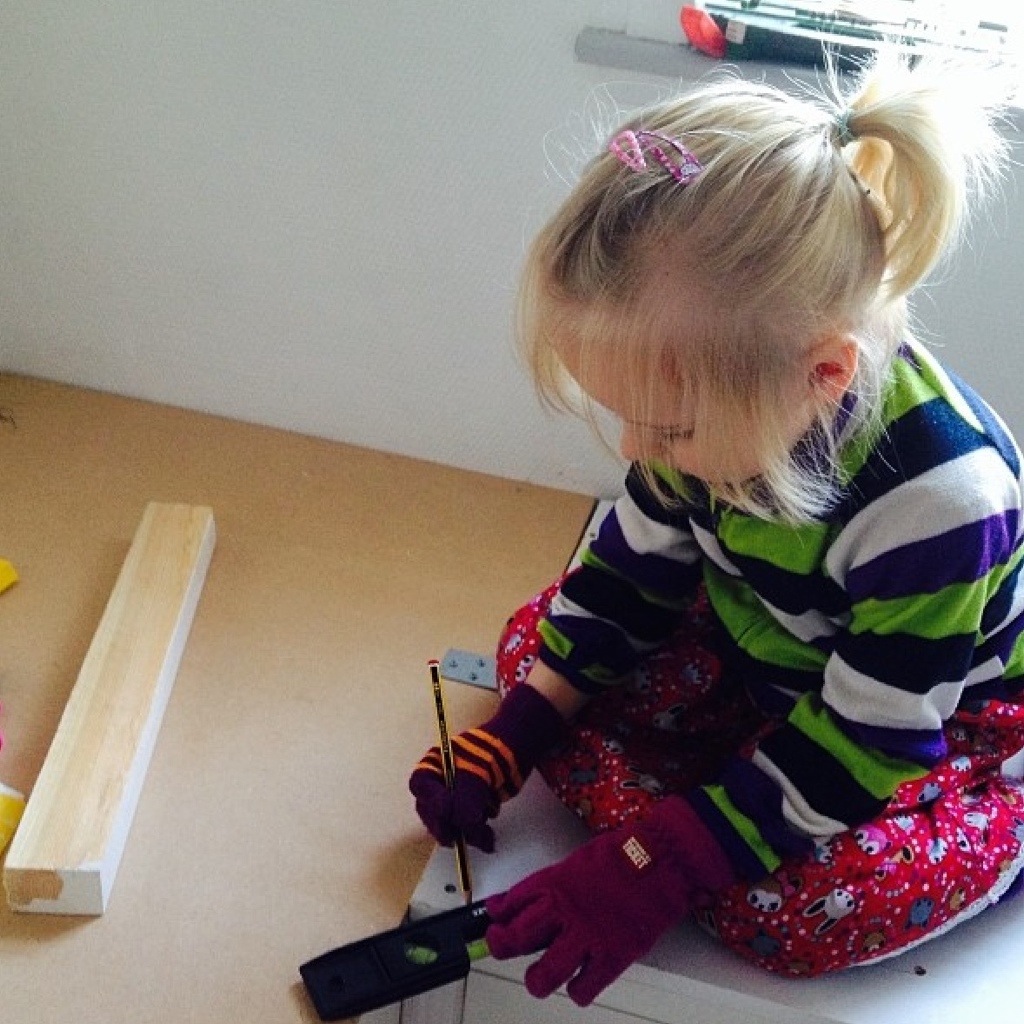 The depth is 68 cm, still enough to sit and lie comfortably, but not as deep as the 90 cm it was before. So I had to cut some of the mattress as well, but it worked out ok.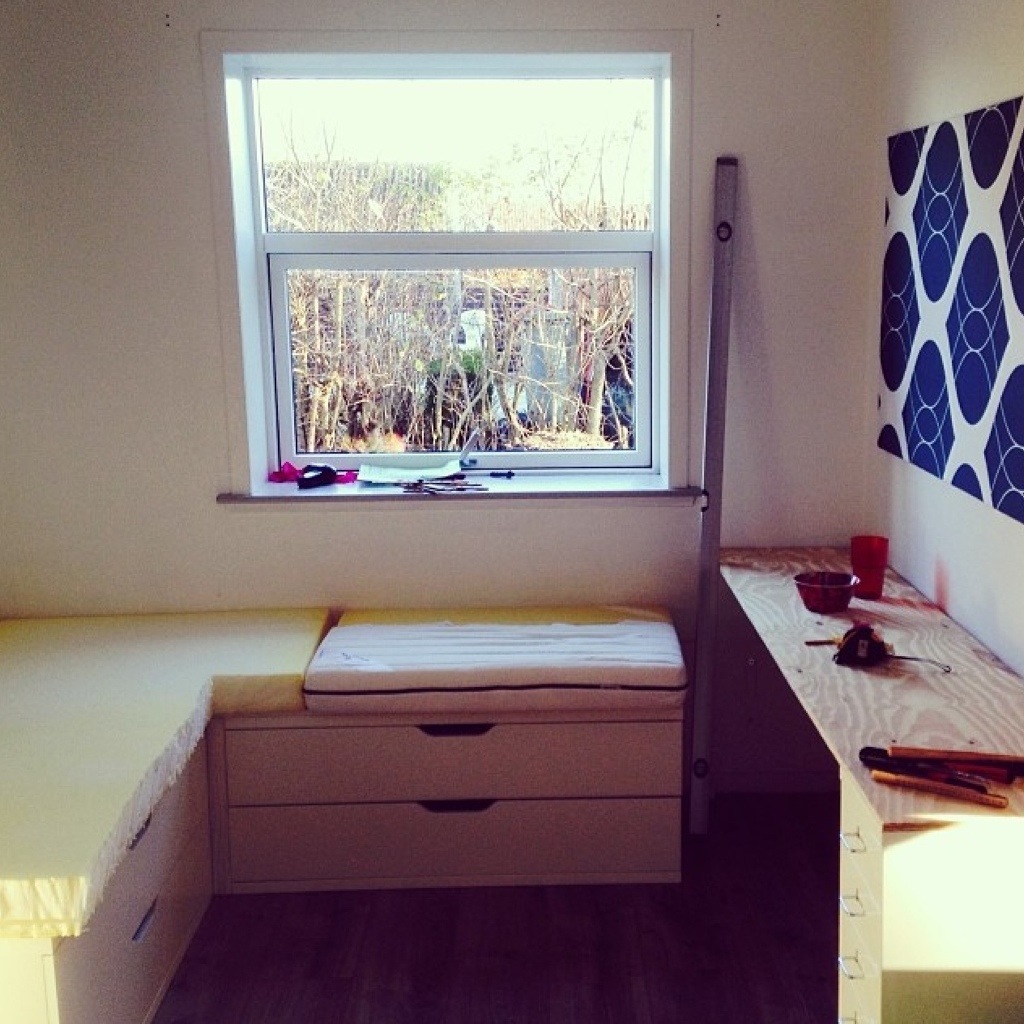 Now, with a new matresscover (with the longest zip ever, to make it easier to squeeze it in) it's very nice. Still comfortable. Still cosy. I still love it.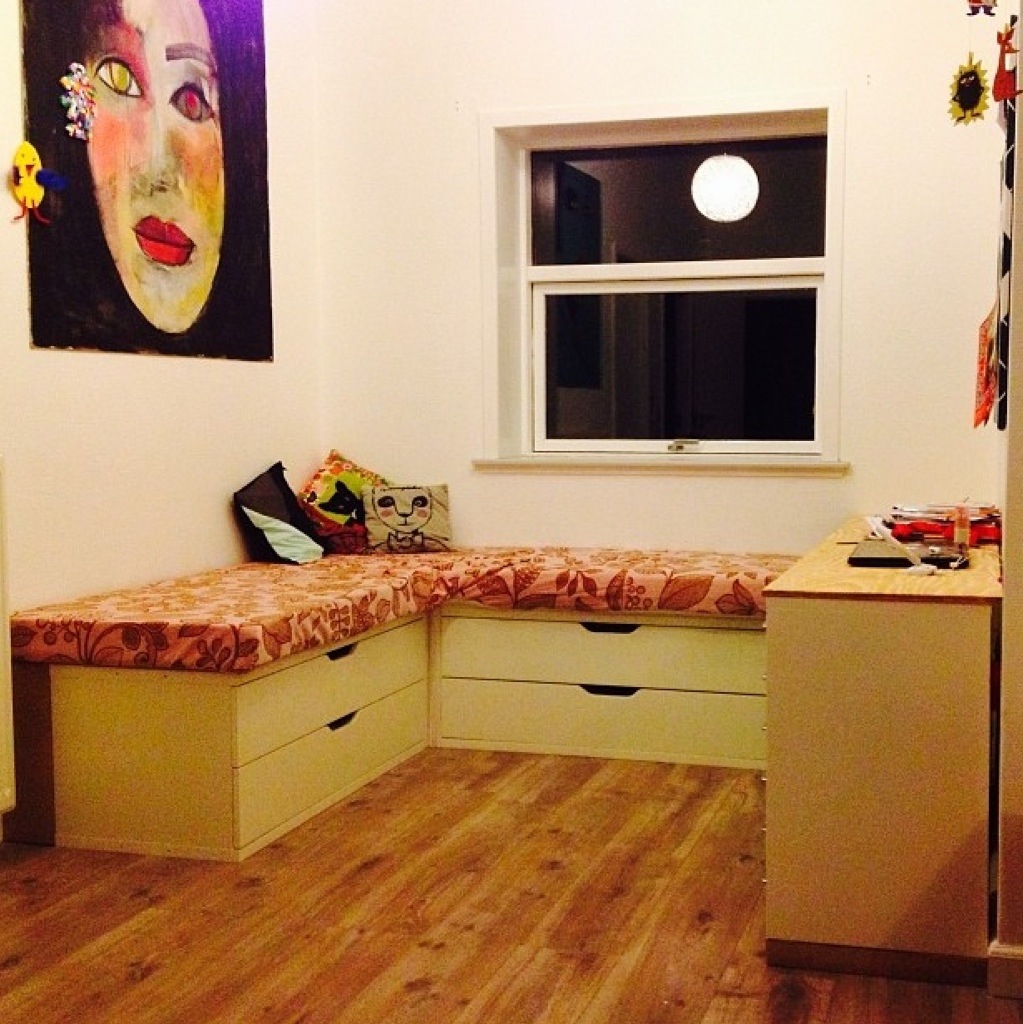 Easy peasy – get building!