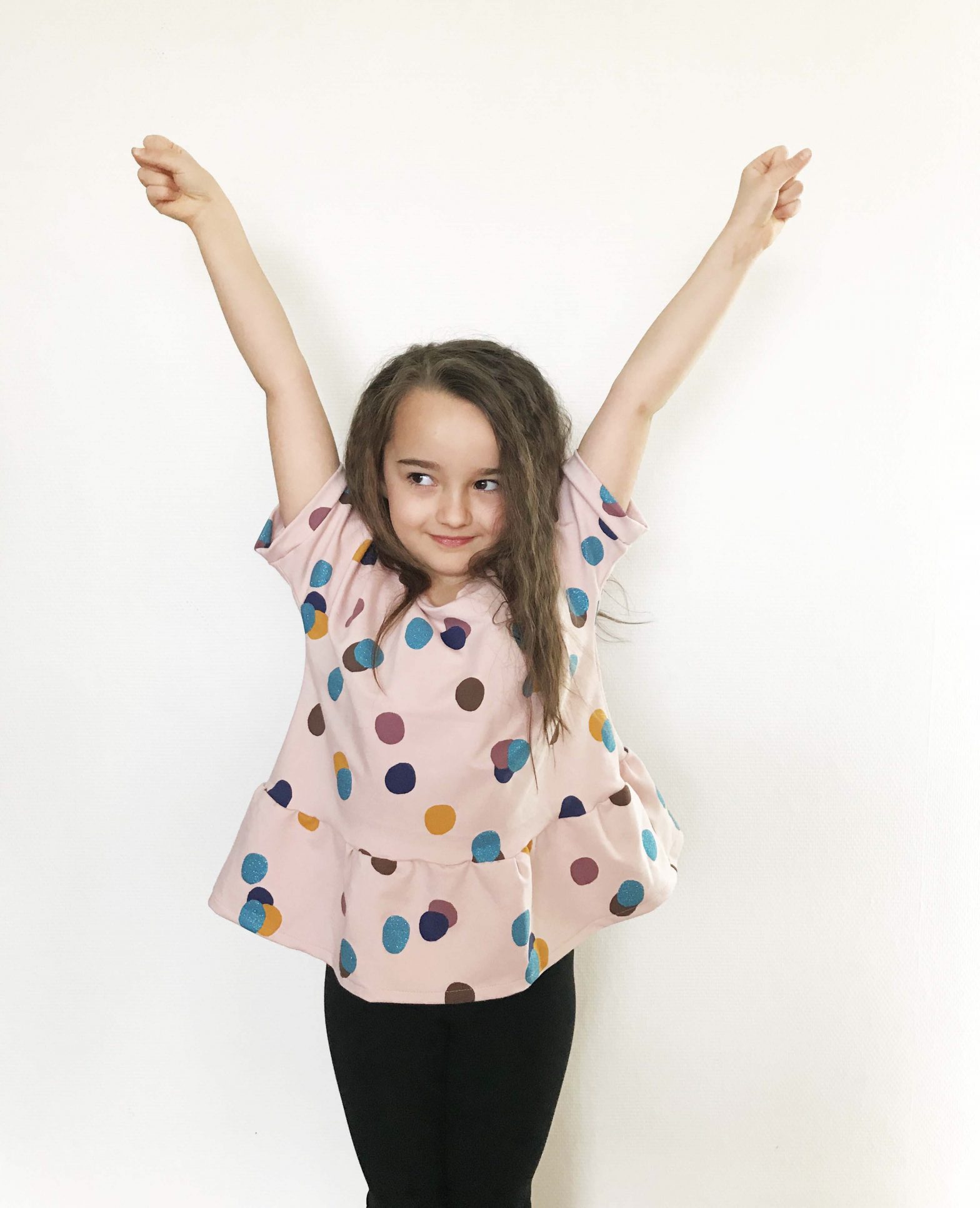 Sy uden mønster – trøje og kjole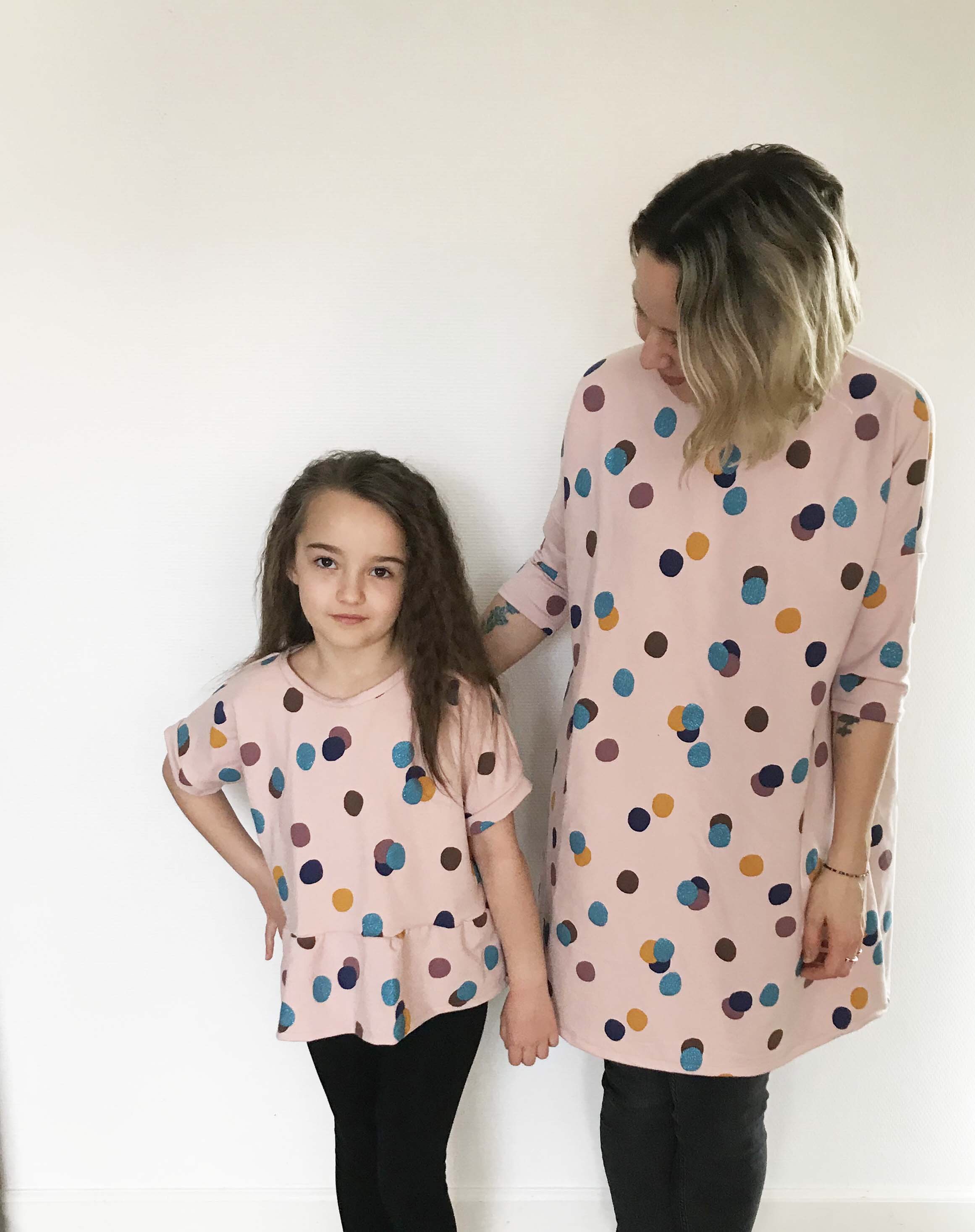 Stof til denne sy uden mønster -post er en gave.
I kavalkaden af nye styles syet i det fine stof fra Stof og Stil er jeg nu nået til den baby pink isoli med bomber. Den er så fin. Der er endda glimmer på.
Jeg fik 1,5 meter, og der var med lidt fusk lige nok til en kjole til mig og en bluse til Roxie. Jeg elsker jo sy uden mønster-teknikken, så det var bare med at gå i gang.
sy uden mønster – hvordan gør man?
Kjolen er klippet fra en anden model i det fine vinkekattestof, også fra Stof & Stil, og jeg klippede den bare ud i et, uden raglanærmer. Der var ikke helt nok stof til at lave ærmerne i den ønskede længde på den måde, så jeg lagde lidt ekstra til fra nogle af de mindre rester fra stoffet.
Blusen til Roxie blev lavet med flæseærmer og flæsekant forneden. Hun er helt vild med den. Det er ikke alting jeg syr, hun bare elsker, som hun gjorde det engang. Men denne er et hit. Den kommer på i skolen, så snart den er vasket igen.
Jeg er også vild med min kjole. Jeg elsker det løse look. Comfy vinder altid for mig. Det er meget intuitivt at sy uden mønster, men sommetider fungerer det bare så godt og nemt.
På begge har jeg lavet halskanten af det samme stof med foldet med bagsiden ud af. Jeg havde ikke lyst til at have glimmeret helt tæt på huden, og jeg synes den lille kontrast, der er i det, giver en fin effekt.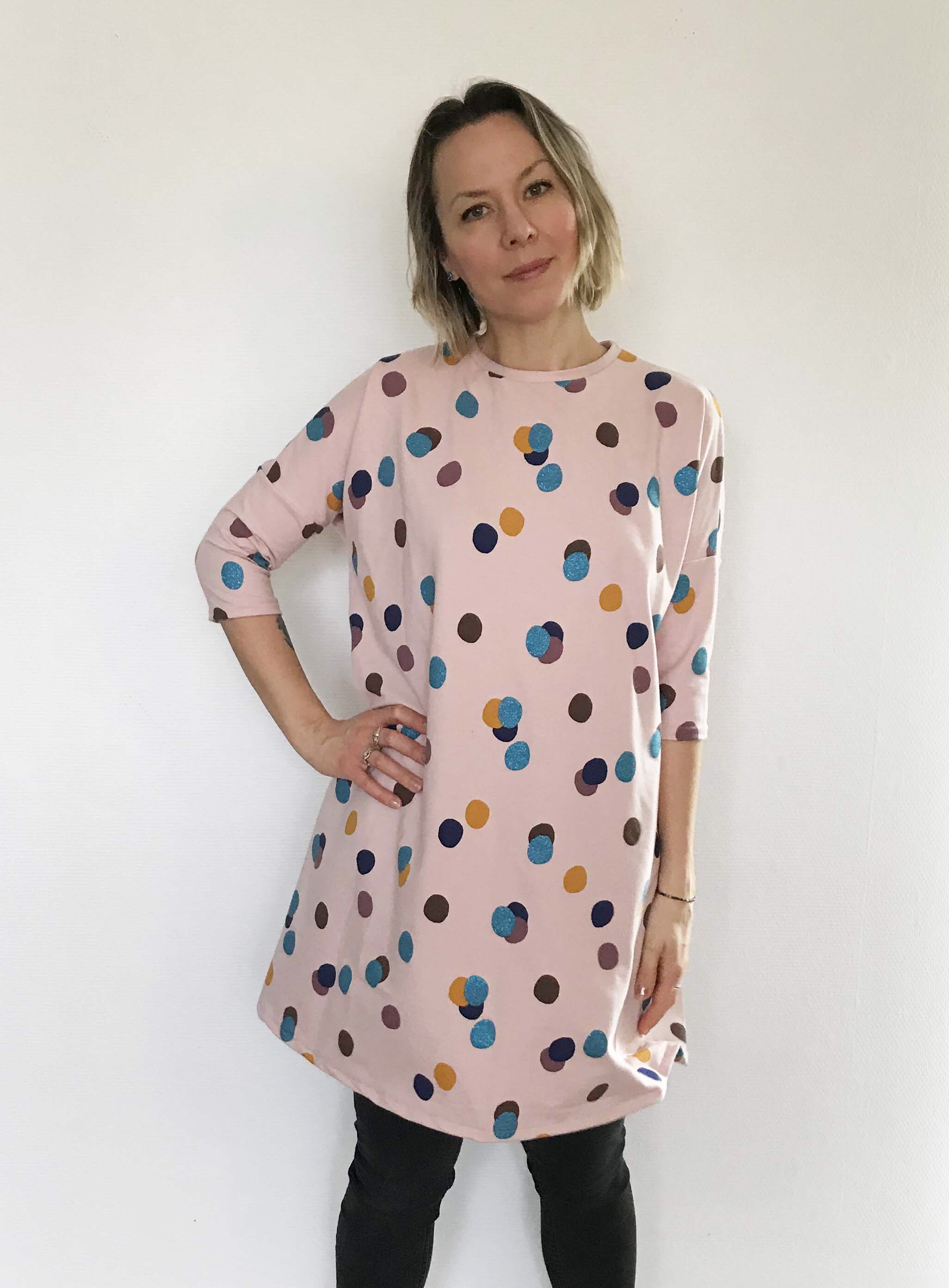 Making my dress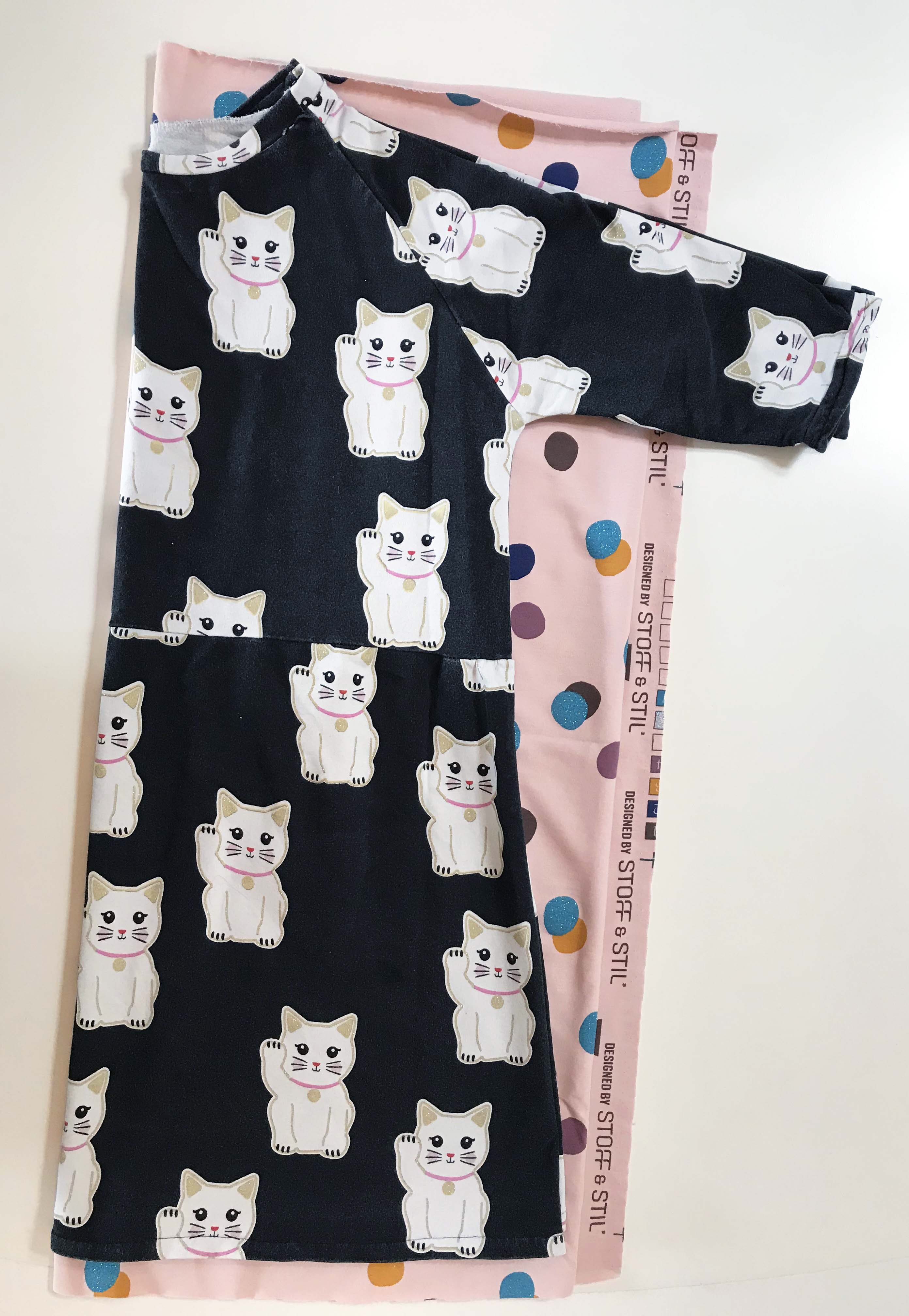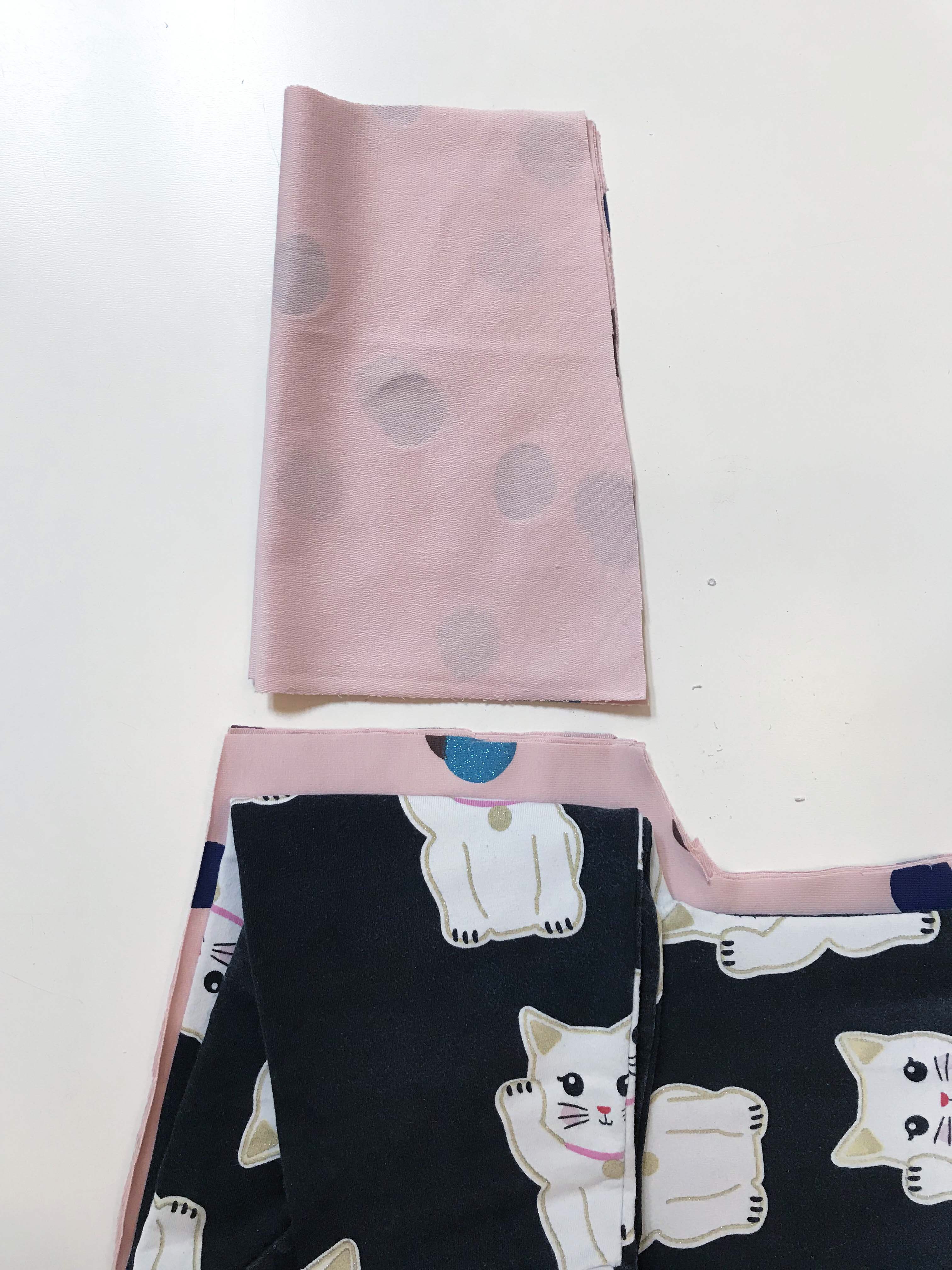 Making the blouse for Roxie
This fabric was a gift.
English recap
In the line-up of new styles made in the beautiful fabric from Stoffstil I have now reached the baby pink brushed jersey with dots.
It´s so lovely. It even has a bit of glitter on it.
I received 1,5 meters and with a bit of magic there was exactly enough for a dress for me and a blouse for Roxie.
The dress is cut from a different model that I made in the cute cat fabric, also from Stoffstil. I cut in in one piece without the raglan sleeves. There was not quite enough fabric to make the sleeves as long as I wanted doing it that way, so I added some extra fabric from some of the off-cuts for some longer sleeve(age – haha.)
Roxies version
The blouse for Roxie is made with ruffled sleeves and a ruffled edge at the bottom. She is not always crazy about everything I make for her, like she once was, but this one is a hit. It´s on at school and and again as soon as it is washed and ready.
I also love my dress. I love the loose look. Comfy always wins for me.
On both of them I have made the neckline in the same fabric but with the backside turned outwards. I did not feel like having the glitter that close to my skin, and I really like that little bit of contrast it makes.