How to trace a pair of trousers – the stylehacking way
In my recent book – StyleHacking – I show how to trace around very simple styles to create your own very simple styles. It is quite easy once you get the hang of it, even though it is probably best to start with some tops and skirts at first. They are the super simple things to trace, and once you have made them, you will be so ready to also give trousers and leggins a go.
This fabric is an example of when the fabric decides what it can turn into, and since I didn't have enough length for normal length trousers, they had to be ancle grasers.
First you need an old pair of jeans – not skinny!
For how to trace a pair of trousers you need something to trace around, and those trousers need to be loose fit and not skinny. If not, it will not work.
You can read more about it in my book, but some of these illustrations will also show it. Just be careful to add enough seam allowance, so the trousers will go up and down over the hips with just the elasticated waistband since it does not have a zipper.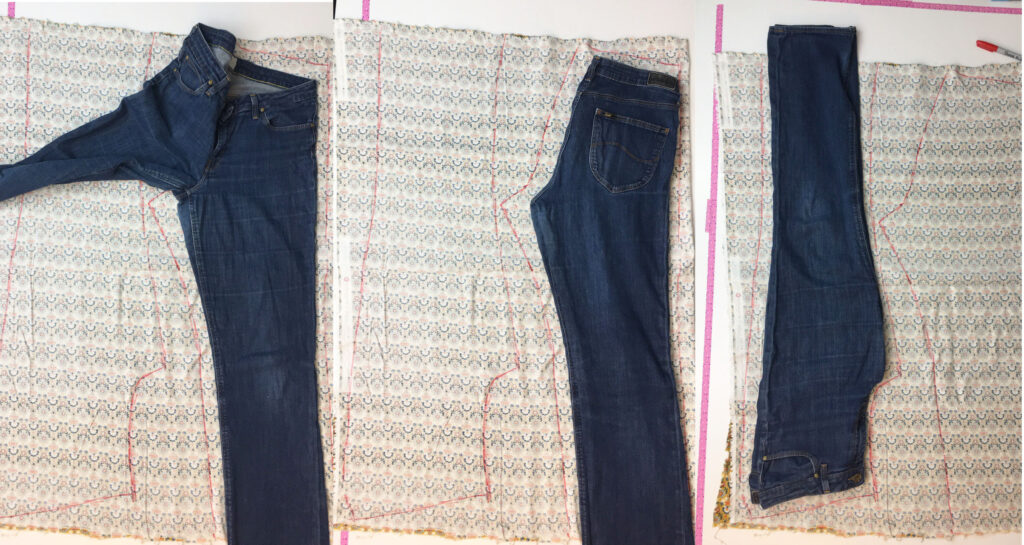 Give the how to trace a pair of trousers method a go!
If you are nervous, you can always start on some inexpensive fabric like old bedlinen. That makes it perfect for a pair of pyjama pants, and soon you will also dare to sew in more fancy fabric.
I chose this amazing yellow printed corduroy fabric. I thought it was awesome, still do.
You can check out the page for my books here.