Easy pinafore dress DIY for you to make in an afternoon
This pinafore dress is a very quick and easy make. So easy that I forgot to take photos along the way, so instead I have added some sketches here at the bottom of the post. Sorry they are not the best, but you should get the idea from them. But you can find the DIY video of it here on YouTube.
I used a meter of thick jersey. I cut of some strips for the pockets and the straps and the used the rest for the dress itself.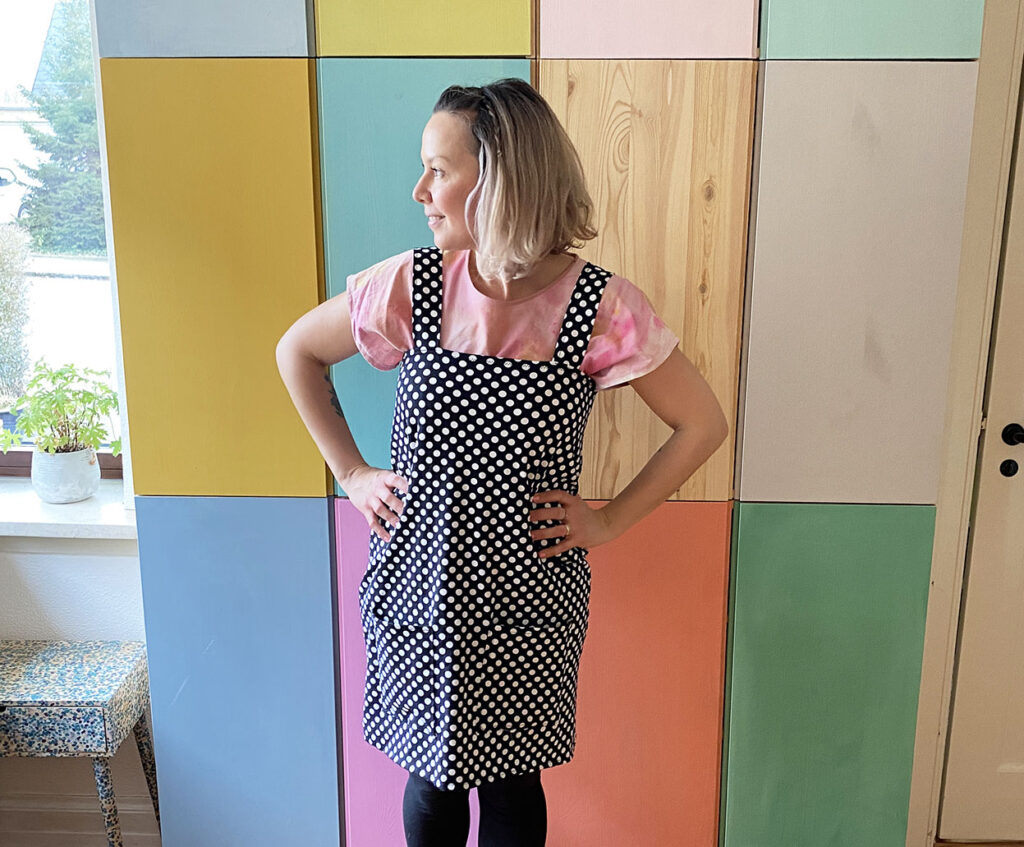 How to make the easy pinafore dress DIY
The only measurement you need is to measure the fabric above your bust approximately at the level just below your arms.
Fold the fabric is it is in two layers. Measure where it fits the front half above your bust.
Mark that on the fabric and cut a line from the and down to the corner. Remember to add 1 cm of seam allowance.
If you want to add pockets it is the easiest to do that now on the piece that will be the front piece.
Fold the pocket pieces as shown on the photo and stitch the folds in place. Then mark where you want the pockets on the dress and sew them on.
Sticth the two pieces together and try it on. If it needs to be smaller and tighter you can adjust that.
When the fit is good hem the bottom  edge by folding up the fabric 1 cm toward the back and stitch it in place.
Hem the top edge the same way but with a zigzag stitch instead of a normal seam.
Adding the straps to the easy pinafore dress DIY
Make the straps by folding the edges 1 cm toward the back and stitching them in place. Then try on the dress and pin the straps on where you want them to be. Carefully take of the dress again and stitch on the straps.
That was easy, wasn't it?
It good thing about sewing with stretchy fabric is that you can get a nice fit quite easily.
My mum thought this was cute, it reminded her of the sixties, and Jolina my oldest daughter really liked it too. So it seems like it hits a very wide target group. I hope you will like it too.
Find more of my quick sewing ideas here.
Cut the 2 pieces, front and back. Measure around the top of your bust and mark that on the fabric. Add a bit of seam allowance and then cut down to the bottom corner.
Add the pockets on the front piece.
Stitch the two pieces together front to front down the sides.
Fold both the top opening and the bottom opening 1 cm towards the back and stitch in place. Use a zigzag stitch for the top opening, since that willl need to stretch.