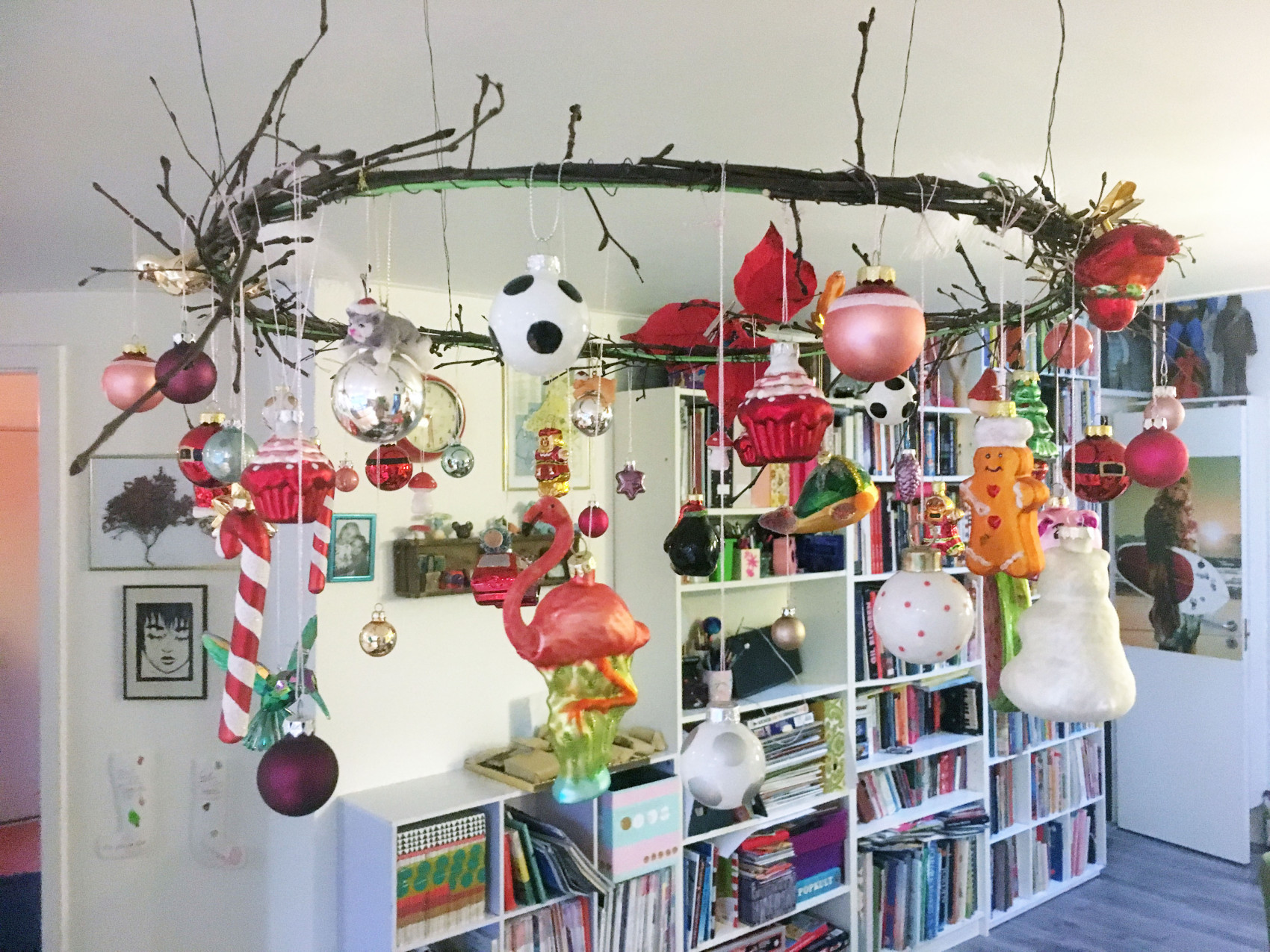 De sidste mange år har vi haft en hel del pynt af den fine og skrøbelige slags hængende over vores køkken-ø i nogle grene. Det har været fint, og jeg har nydt at kigge på det, men jeg havde lyst til at lave noget andet i år.
Jeg ville egentligt have haft fat i et gammelt cykelhjul, men jeg nåede ikke lige på AVV for at hente et, så jeg måtte bruge det, jeg lige havde liggende. Det blev 3 metalbøjler med grøn gummicoating.
De blev klippet op og bundet sammen formet son en cirkel. Herefter en masse grene på med ståltråd. Alt det grønne gummi blev ikke camoufleret, men det er ok. Jeg er tydeligvis ikke bange for farver.
Da kransen var færdig blev den hængt op samme sted som sædvanligt over øen, og der kan alle de fine kugler nu hænge i cirkelformation.
Jolina hjalp med det hele, og det var så hyggeligt. Jeg elsker, at pigerne bliver så store, at de bare kan være med i alle de her projekter. Og så elsker vi alle at kigge på de mange fine kugler alle steder fra.
Vi har også juletræet oppe, men det er fyldt til randen med alt det andet pynt. De fine kugler kræver deres egen flotte placering, hvor de rigtigt kan skinne.
—
And for the English recap:
We always have our "fancy" baubles and Christmas bling up above our kitchen island every December. Normally hanging from some branches from our back garden. This year I refashioned 3 clothes hangers into a huge circle that was then covered in twigs and branches. It works and shows off our favourite decorations in a very nice way.