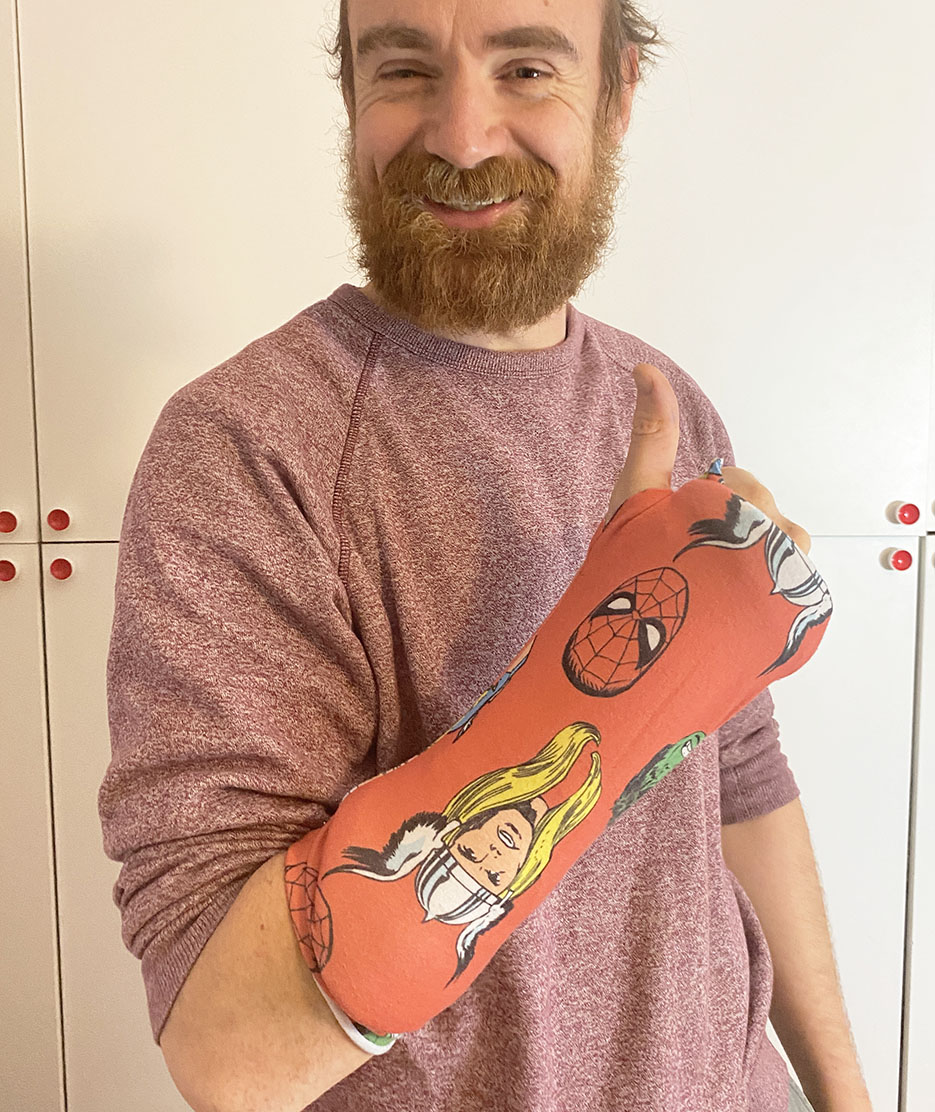 Cast cover tutorial in case you are so unlucky you need it
And boy – has this cast cover been a great and useful make!
My husband is great, but sometimes clumsy and sometimes just unlucky. He was so unfortunate to crash on his bike one day home from work, and he hurt his arm a lot. At first he thought it was fine, but yesh, that was wishful thinking, and he ended up with a cast on his arm.
He has a job with lots of outdoors time and lot of kids around him. I was worried about how disgusting it would end up looking, but also about the germs being carried back and forth on it. I had a really hard time dealing with that thought. So I had to come up with something.  And thus the arm cast cover was born. Not like anything I normally sew, but it was a fun challenge.
How the cast cover saves me from being grossed out every day
I have made a lot of these and basically he puts on a clean one everyday before work and everyday when he comes home. Inside it the cast is not as disgusting as it could have been without a cast cover, and it also just looks fun. And clean. Lets not forget that it looks clean.
They just get thrown in the wash and there are always clean ones to wear. And the kids think its super fun that their teacher is wearing all kinds of prints and patterns on his arm cast cover.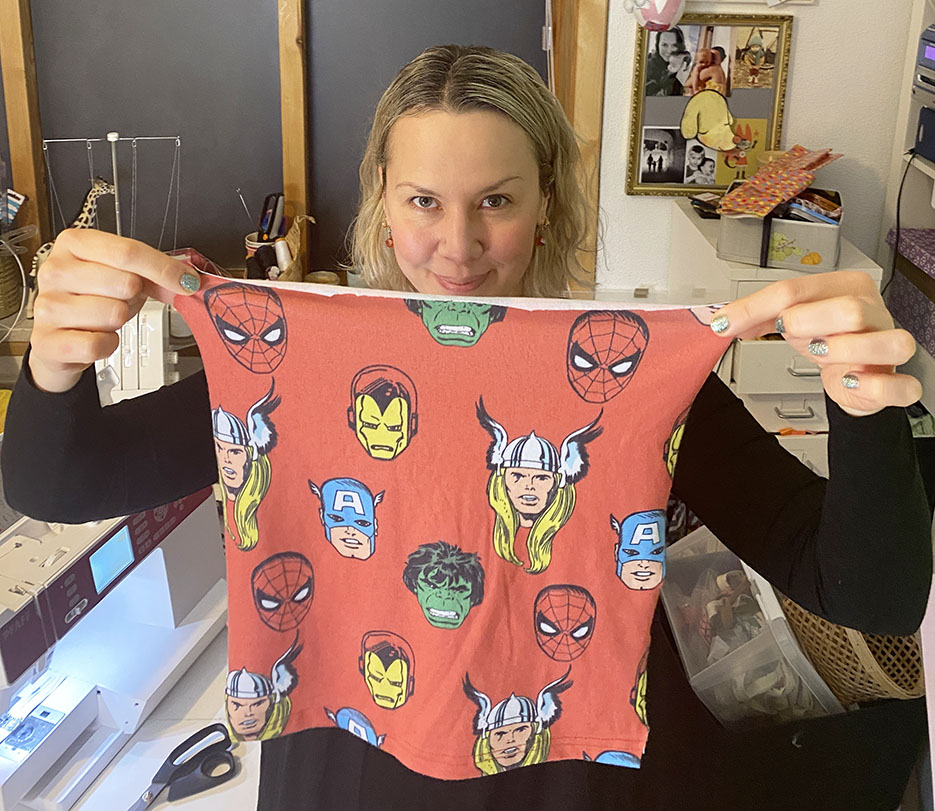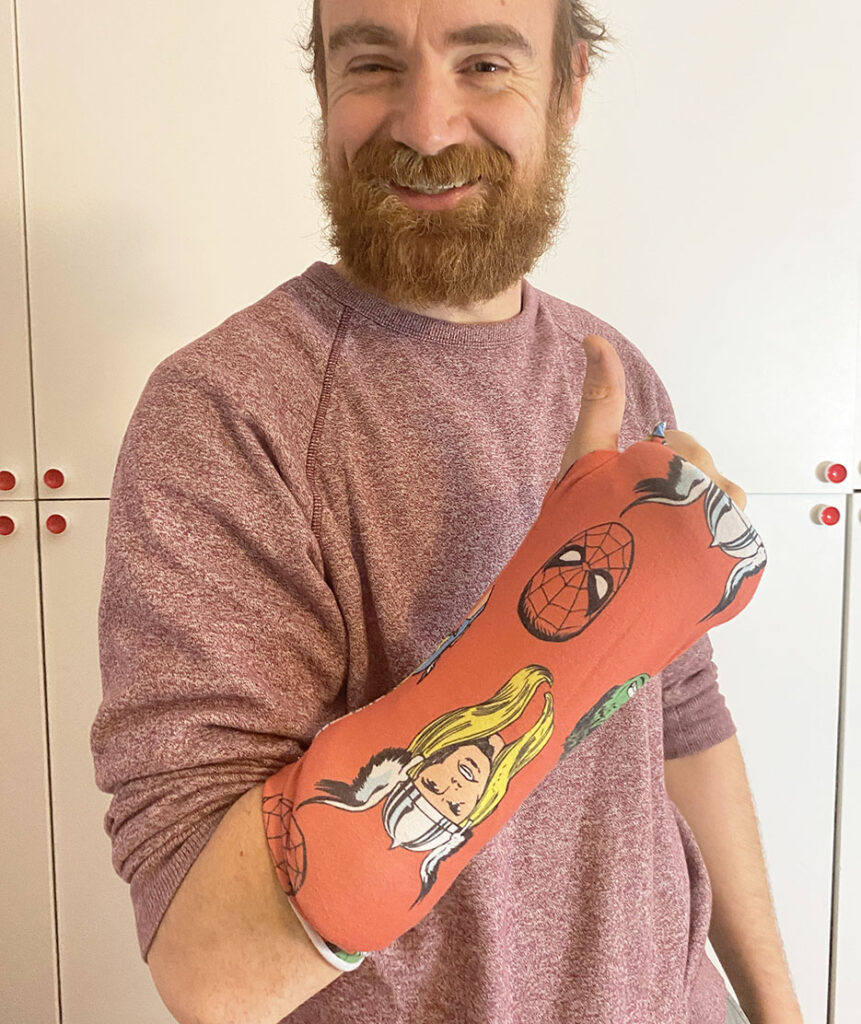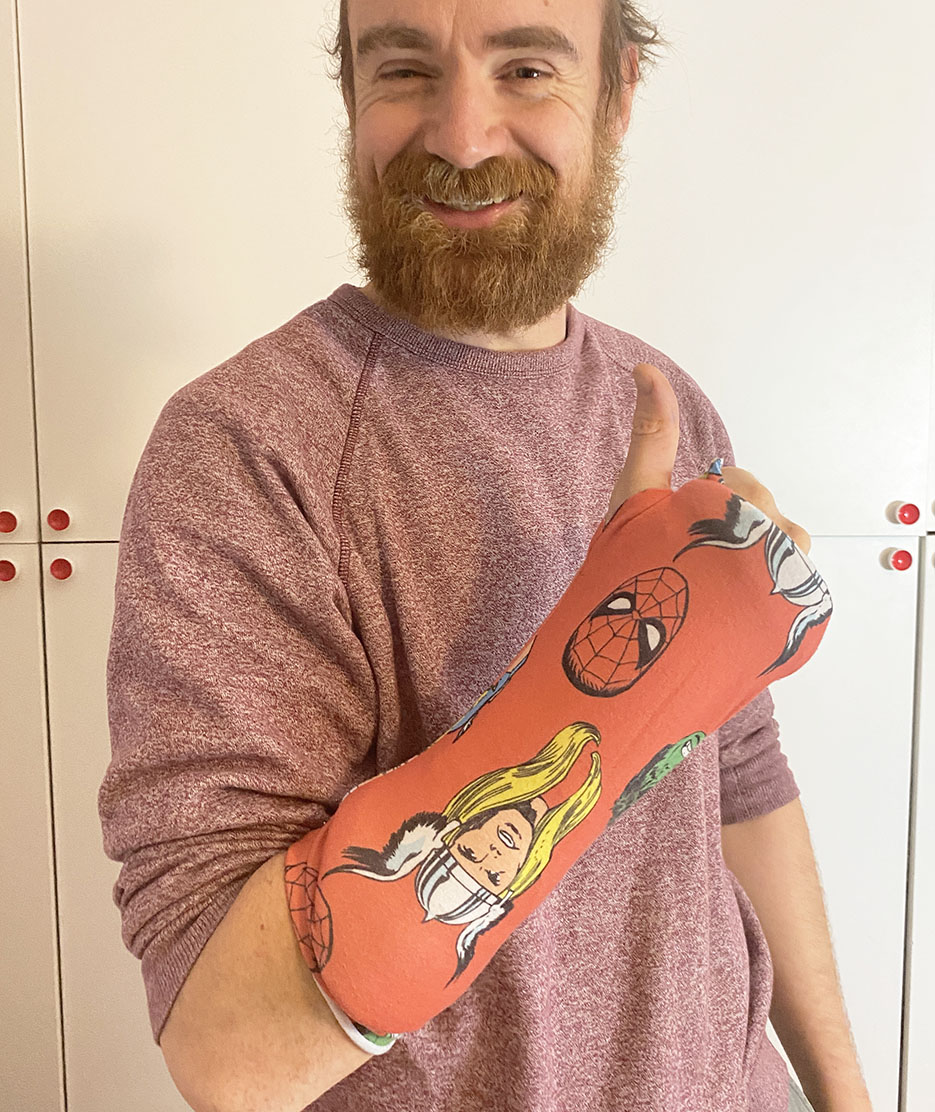 How to make the cast cover
It is quite easy to make the cast cover.
It just takes –
A sewing kit or sewing machine
And some stretchy fabric
How to cut and sew
I measured out with some remnant stretchy fabrics I had in my stash, and just tried to make sure the pieces covered his arm cast.
I cut off a piece that folded around the cast, with a bit of excess fabric to fold in at the top and bottom, and I made sure to mark on the back of the fabric where the thumb needed to go out.
Then I stitched it with a normal stitch, you can also use a serger or zigzag the edges first.
I made the gap for the thumb and kept all the edges raw. Stretchy fabric does not fray so much in my opinion, so I thought I would try it like that, and it worked out well.
When you have a cast cover that fits well, it is easy to use that as a template for some more, to start a mass production, in case the person who wears it needs to look kind of clean. And cool too.
Hopefully, this is not a tutorial you will need, but in case you ever do, I hope it will bring you some joy while waiting to heal. You can also see a video of how to make it here.