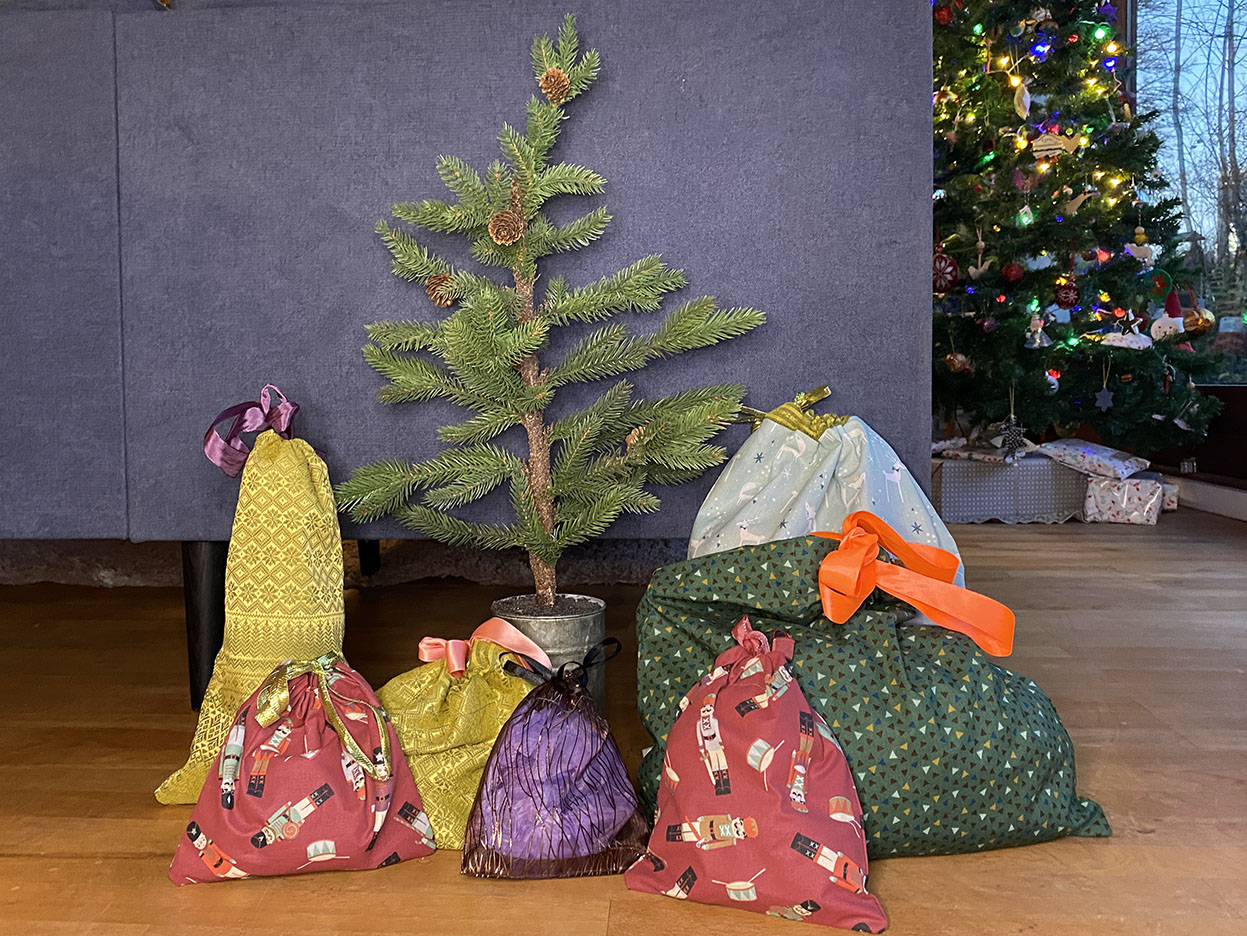 Homemade sustainable gift bags for you to make just in time for the presents to be wrapped
There is still time to make some homemade sustainable gift bags before the gifts need to be opened. And perhaps now is the right time for you to try it?  Perhaps you are off from work or school and this could be the perfect craft while waiting for the gifting. And with the word "sustainable" – that of course requires that the homemade sustainable gift bags actually gets saved and used for presents next year, the year after that, and so on. In my humble opinion lots better than the wrapping paper that cannot even be recycled because of all the coating and chemicals.
I have written about it here on the blog once before several years ago, and both me and my mum have a lot of the bags saved from then.
There is a video tutorial on YouTube with a slightly different technique, and you can see that here.
What you need for the homemade sustainable gift bags
A sewing kit or sewing machine
Old fabric, perhaps with a Holiday theme but it is not necessary. It is lovely if it is thrifted, there you can find some fun quirky tablecloths that are perfect.
Ribbon or decorative tape.

How you make the gift bags
The good thing about these homemade sustainable gift bags is that you can make them in any size you want. Any size you need for the presents that will go inside.
I use two pieces of fabric the same size. A bit or a lot larger than the present the bag must contain.
Use a zigzag stitch or a serger at the edges so they do not fray.
The fabric is placed, front of fabric facing in towards each other. Then I stitch the pieces together at the bottom and at the sides, but I leave 8-10 cm open at the top of the sides.
That I fold in towards the back, aligned with the side seam. Then I fold the top down, towards the back and pin it in place with wonder clips.
The folds then need to be stitched so a tube channel is created.
Though this tube channel a piece of ribbon or tape is guided by the help of a safety pin. Tie the ends together and use that to close the homemade sustainable gift bags.
Cute, festive, and sustainable. No wrapping paper that just ends in landfill. And a bit more joy with the presents in these sweet bags.