Christmas cookies with dots to enjoy at home
I have seen a much prettier version of these Christmas cookies with dots several places, but now I thought it was time to make our own.
Just like I do batch working for my creative tasks, as I have written about here, I also cannot help doing it with other things. I cannot just do one thing. It just has to be more, so it seems worth it. It is kind of a curse, but I  make it work. So we did a lot of Christmas cookies, but these ones with dots turned out to be my favorite and we will make them again for sure, perhaps even perfecting the technique.
Recipe for the cookies
For the cookies you will need:
350 grams of Flour
150 grams of Sugar
1 teaspoon of Baking powder
1 Egg
225 grams of Butter at room temperature
And to be added with a 4th of the dough: 4 tablespoons of Cocoa powder
Cookie cutters
Rolling pin
I am sure there is a procedure for how to mix these things correctly, but I just put them all – apart from Cocoa powder in together and give them a good mix and kneeding.
Then take away a 4th of the dough and mix the cocoa powder in with that.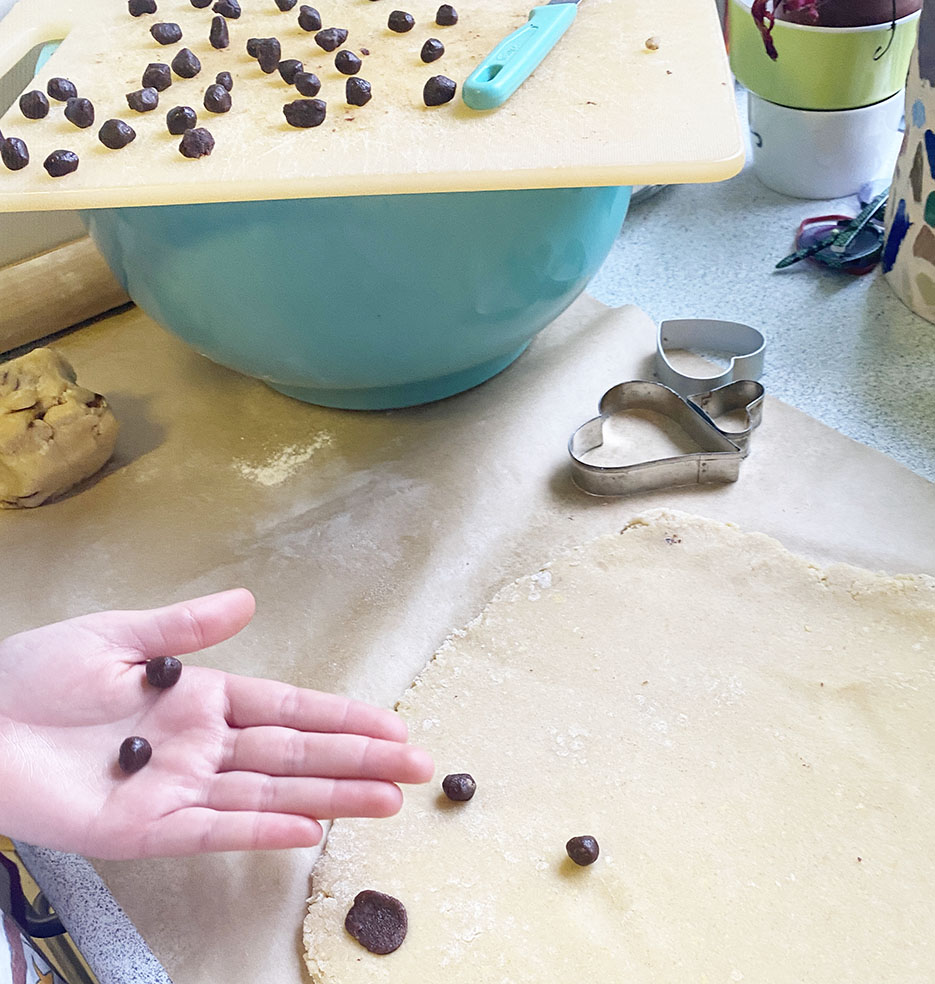 How to make the Christmas cookies with dots
Roll out the white dough, but not too thin. Roll little balls of the brown dough and place them on top of the white dough. Push them down and pat them flat. Roll on top of the dotted dough with a rolling pin.
Place the cookie cutters awfully close to each other to get as much use of the dotted dough as possible. We made marbled cookies and swirl cookies with the rest of the mixed dough.
Place the Christmas cookies with dots on a baking tray and bake them at 170 degrees for 15 mins. Check occasionally, in case your oven is faster than mine…
Let them cool a bit, and then enjoy. Merry cookiemas!