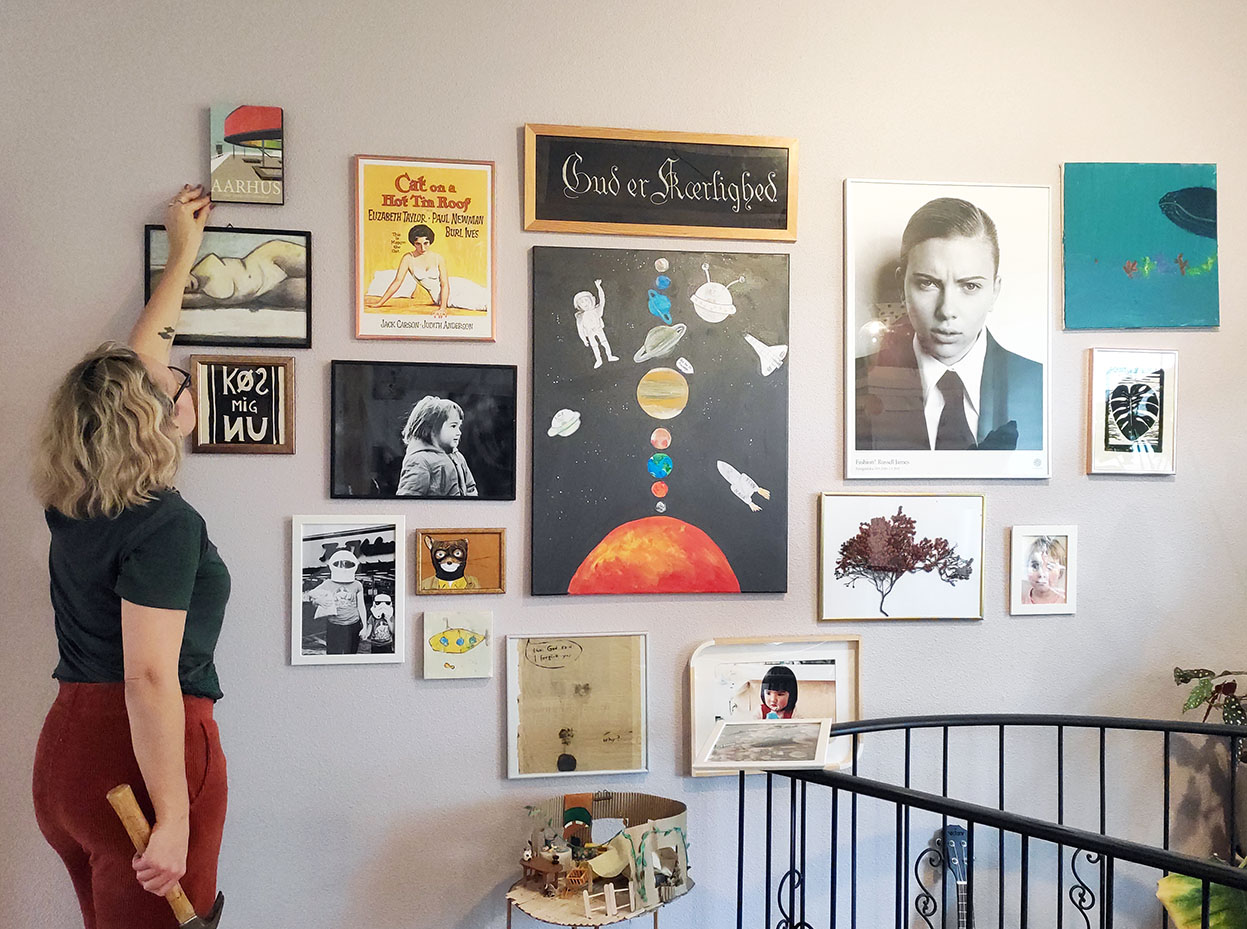 Create the perfect gallery wall- because they are the best
Long before there even was a well-known term for the gallery wall in interior design, I loved gallery walls. I have always just adored photos, drawings, statements, and paintings and have had them on my walls to look at and enjoy every day. Friends and family always thought it was s cozy, because it was obvious that I used my wall space to display what I loved.
I think the most important thing to remember when you design or plan your own gallery wall is that there are no rules. The frames do not have to be the same color or size. The distance between them does not have to be the same. Color coordination is not necessary. What matters is that you love what is on your wall. And then perhaps just that the frames or paintings are hanging straight. But that can be adjusted along the way.
How to plan the perfect gallery wall
 First of alle it is important that you figure out what makes you happy to look at with gallery walls.
Is it inspirational quotes? And is there a specific style or content you like – or is there a way to make them more personalized for you? Could you write some in your handwriting even or a font that is cool
Is it photos and pictures? Of loved ones, of your heroes? In color or monochrome style? Do you like mismatched frames or a certain type of vintage brass or wood?
It is works of art that does it for you? Homemade, from the gallery, posters from the museums or art prints torn from books?
Or perhaps all the above and more…
The point here is, that it is totally up to you. You plan and create the perfect gallery wall – for you – from what you enjoy.
And make sure to do that. It is supposed to bring you joy and remind you of all the things, places, and people you love.
Tips and Reminders
You can go for specific color schemes, a certain theme, or something else that ties the perfect gallery wall together for you.
I like to lay all my art, photos and whatever is going on the wall on the floor first to plan the layout. Then I can move them around here before the nails are put in the wall.
I try to have a random space between the pieces going up, because that makes it much easier for me. If you want to have a certain space between the frames, you must be so careful and take time to measure a lot when putting the nails in. I neither have the patience or talent to do that. It is much easier to make something random look random. So random is good for me.
I have lots of homamade art, some photo art that I have bought from museums, pieces of ceramics and family photos. I love to buy art prints from Jenny&Jens, they are awesome.
Create the perfect gallery wall -and Love it!
I have several gallery walls. All in places where I can see them often. And the bring me joy.
When something does not bring med joy anymore, I swap it for something else. When you want to bring in new things, you might also have to swap something even though you still love it, because you can run out of space. But that can be a good reminder to feel what is the most important, and to allow yourself to let go of things occasionally.
If you want to see more of my home, you can follow my house Instagram profile here.
Our old gallery wall in the mint green house on this post.
Here are links to good posts about gallery walls.