Junk decor DIY is a fun creative project
Junk decor DIYs sounds – if you know me – like something I would have a lot of materials lying around for. And that is not at all wrong. I have a lot of junk – everywhere. Bowls, cups, small plates, tea light holders and so on.
I have a hard time parting with something, that has a nice color, that someone kind gave to me, or that just tells a good story. That I why my house looks like it does. Like a junky mess.
I recently came across the junk decor DIY ideas to try at home, and it very much resonated with me. I saw it in a Christmas setting with lots of Santas and red bling, but I thought – why not have something you can use all year round.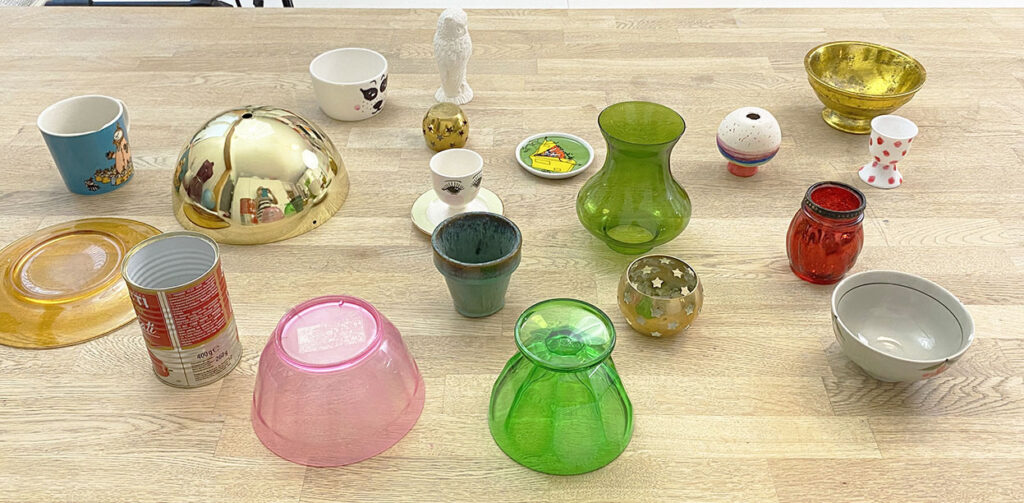 Finding supplies for the junk decor project
For me it was not difficult. I basically just had to open my kitchen cabinets, my basement door, or a random box I stumbled upon. That is because I am a hoarder of fun, crafty things, among those things also junk.
But you can also find supplies for junk decor DIYs in your local thrift shop or flea market, or perhaps in a friend´s kitchen cabinets or basement (if they are a generous hoarder.)
It is nice if the junk is junk that appeals to you. It is not just supposed to be ugly stuff, then you will not appreciate the decor after. At least I think that it must tell you a story and be pleasing for you to look at.
Junk décor DIY in the making
I had a fun time trying to make this junk décor DIY, and you can see the video here on YouTube.
Making the decorations I simply stacked the different pieces of junk on top pf each other. Make sure there are some heavy items at the bottom. And glue them carefully.
Gluing was not as easy as I thought, though… I tried to use some super glue and ended up experimenting with my hot glue gun. I am not sure how well the glue holds up, so I will be lifting them super carefully.
I ended up having glue everywhere on my hands. Typing this they are very nasty.
And I had to give up on one of the three decorations in the video but ended finishing it afterwards.
Aaaaand the results
I am loving the way these ended up. They will be in my windowsill in this dark time spreading some coziness with battery operated candles or perhaps some nuts or treats.
I bet people will look twice at them, but that is no problem for me. They were fun to make and look quirky and fun, just like I wanted them to with lots memories attached to the junk.
If you like junky things, then I made this awesome Holiday wreath some time ago with lots of decorations from my nan and thrift shops. It is one of my favorite items that I put up every December (ok November). See it here.
This is what it looked like behind the scenes..