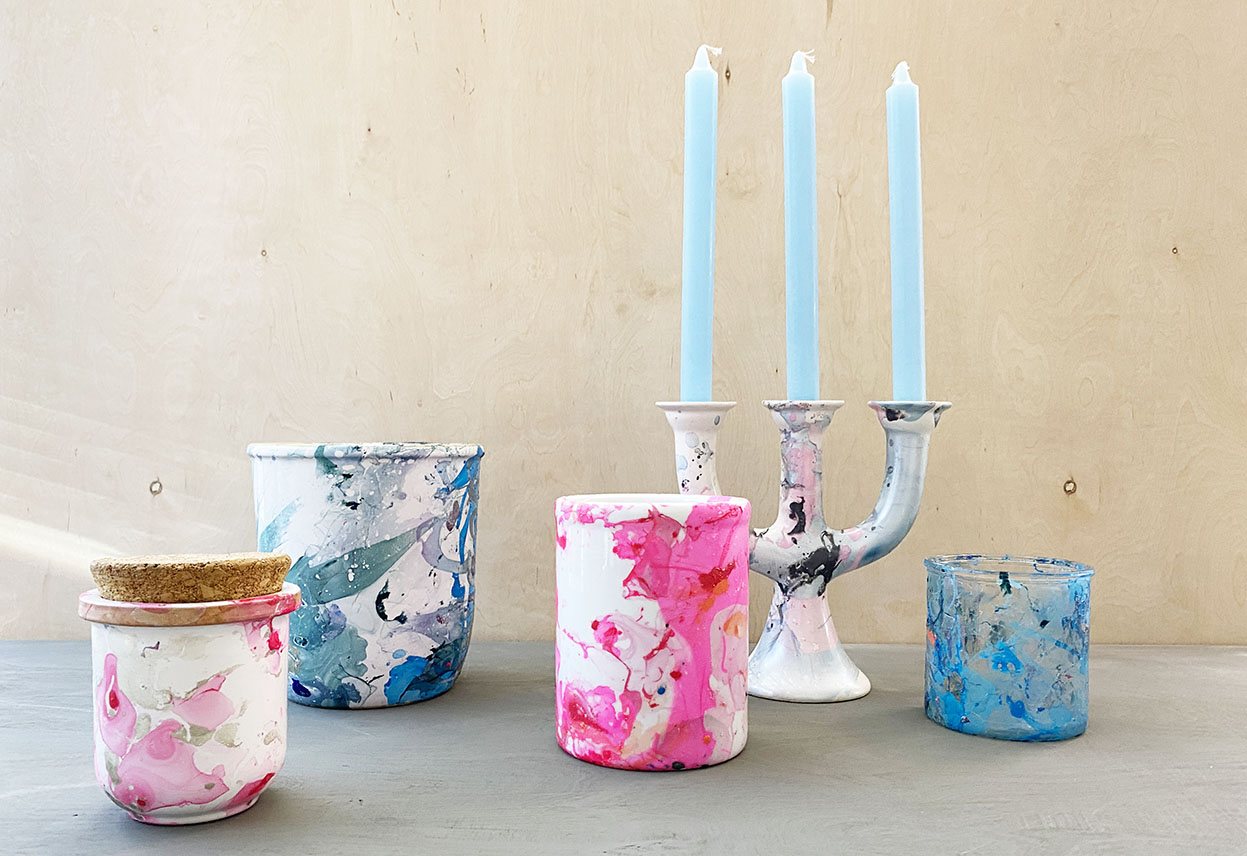 Marbling with nail polish has been on my blog and YouTube list for a long time
I have done it once before, but it was a so much fun, so I wanted to do it again. The dangerous thing about marbling with nail polish at home – apart from the smell, is that it is hard to stop.
You just keep going, finding more things you can marble. Almost like tie dye, where you have suddenly stripped the entire house of white cotton and everything has a bull's eye on it.
The video of the whole process is here on YouTube.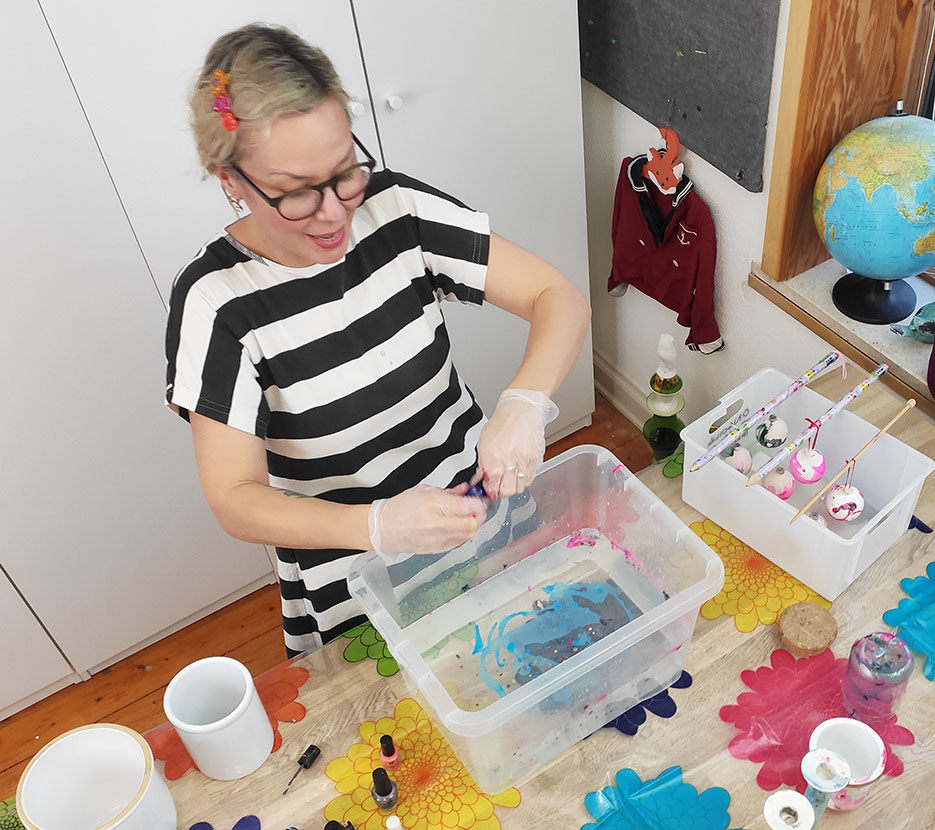 What you need for marbling with nail polish in your house
An open window or air purifier. It stinks and is not good to stand in those fumes for too long, so be careful.
Plastic or latex gloves because you do not want that stuff on your skin.
White items – I had porcelain, but I guess you can also use plastic. I have been buying stuff used and saved it for this project. I tried it with some glass jars, but I ended up not liking the results that much. Perhaps you will have more luck marbling glass with nail polish.
A big plastic tub of water. This will be very gross looking by the end, so do not use one, that you are too attached to.
And nail polish. Whatever colors that do not really work that well anymore, so they at least do some good.
Note: I do not marble things that go anywhere near food, but only things used for storage of craft supplies, flowers, or plants. I would not drink from a marbled cup. That just does not seem right.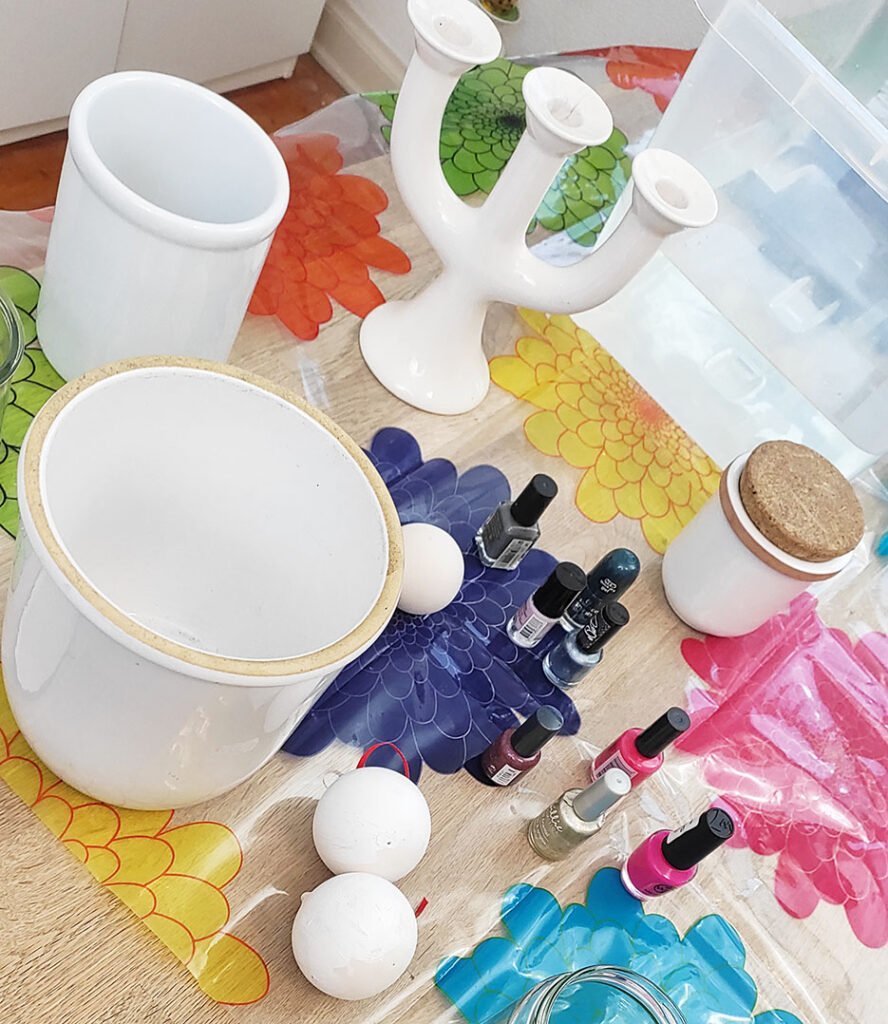 Did I have fun?
Well, yes, I did. Apart from the fumes, that got bad at one point. And apart from taking it too far on some items, where I should just have stopped. But overall, I thought I got some very col tings from it.
I especially loved the marbled baubles for Christmas decorations. They are pretty and fun. Quite different as well.
I also think the candelabra turned out well, and I look forward putting some pretty candles in it. That will look beautiful. And all the jars will hold pencils and paintbrushes and just look great.
I hope you have fun with marbling with nail polish at home if you try it out, just please remember fresh air and gloves.
Find this and other fun craft projects on my blog here.