#makenine part 3 of 5 Nani Iro
More from my #makenine challenge , one that I have been very excited to show you. It is time for the projects I have done from Nani Iros Sewing Studio pattern book.
I have been in love with Japanese sewing books for quite a while. The style is so simple and elegant, and they can somehow make the most boxy patterns in basic linen look good. I always thought that was soo cool. Now I want to make my own Nani iro.
I then also discovered the Nani Iro fabric, and how amazing that is. Simply gorgeous.
I was on one of my Aarhus trips I found out that the lovely Meter Meter shop¨ https://www.metermeter.dk/, where they among other things sell the Nani Iro fabric lies two houses from my cousins flat! That was a great discovery. I bought some fabric there in the summer, but that is already used on some other projects. It could be a dream to buy enough Nani Iro fabric to actually make these styles with.
From the book I chose to make the boxy top and the summer coat.
The boxy top
I made two versions of the boxy top, one in a grey, thick muslin-like cotton.
I also wanted to make a version with longer sleeves, but it was hard to find a big enough piece of fabric in my stash, so I found two narrow, soft scarves that I had just found in the thrift shop. That turned into quite a sweet and warm version of the top. They were not the same width, so it fit perfectly with making the diffence in front and back of the top.
The grey one is very comfy, but it makes me feel quite boxy. A cosy grey box.
The red one of the thrifted scarves is my favourite. It has that bit of detail I really like with the different front and back, and the material drapes beautifully.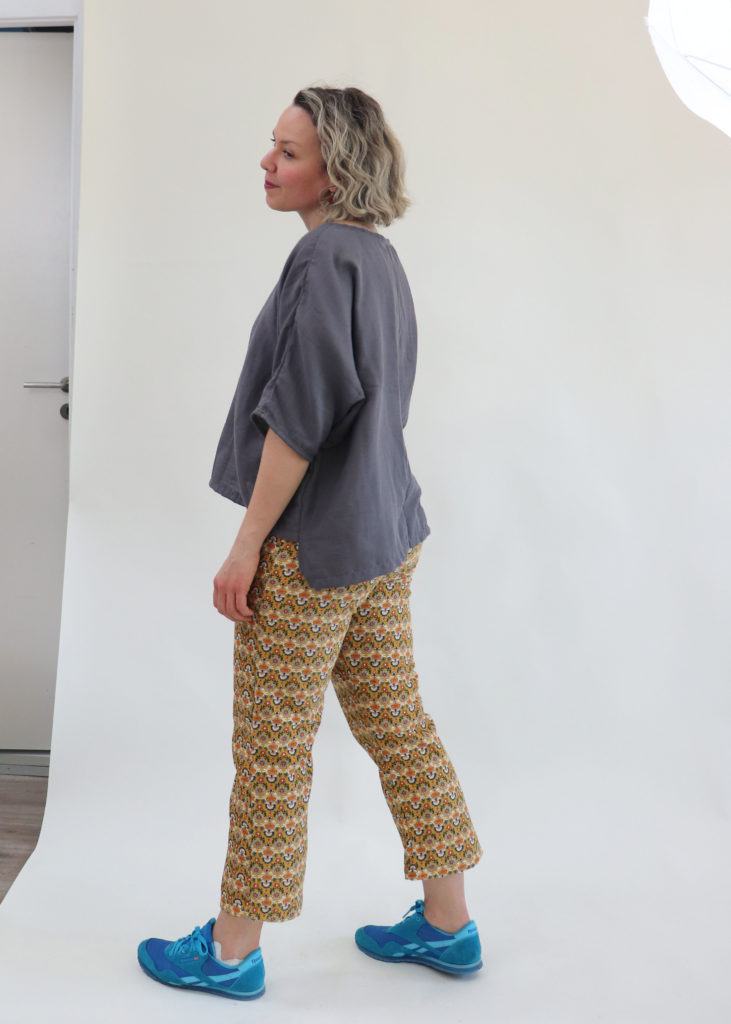 The Summer coat
The jacket takes a lot of fabric, and I thought I did not have anything to make it from, but magically a black, think wool fell out from my box of jersey remnants. It had just hidden there and I totally forgot it. Now that I know how to make the coat, I plan to find some thrifted fabric from some bedding and make another one. Perhaps a bit more summery than a black woolen one..
I love the looks of the styles, they turned out just a I wanted them too. The patterns were easy enough to understand and the instructions were good.
Now I just dream of some Nani Iro fabric as well.