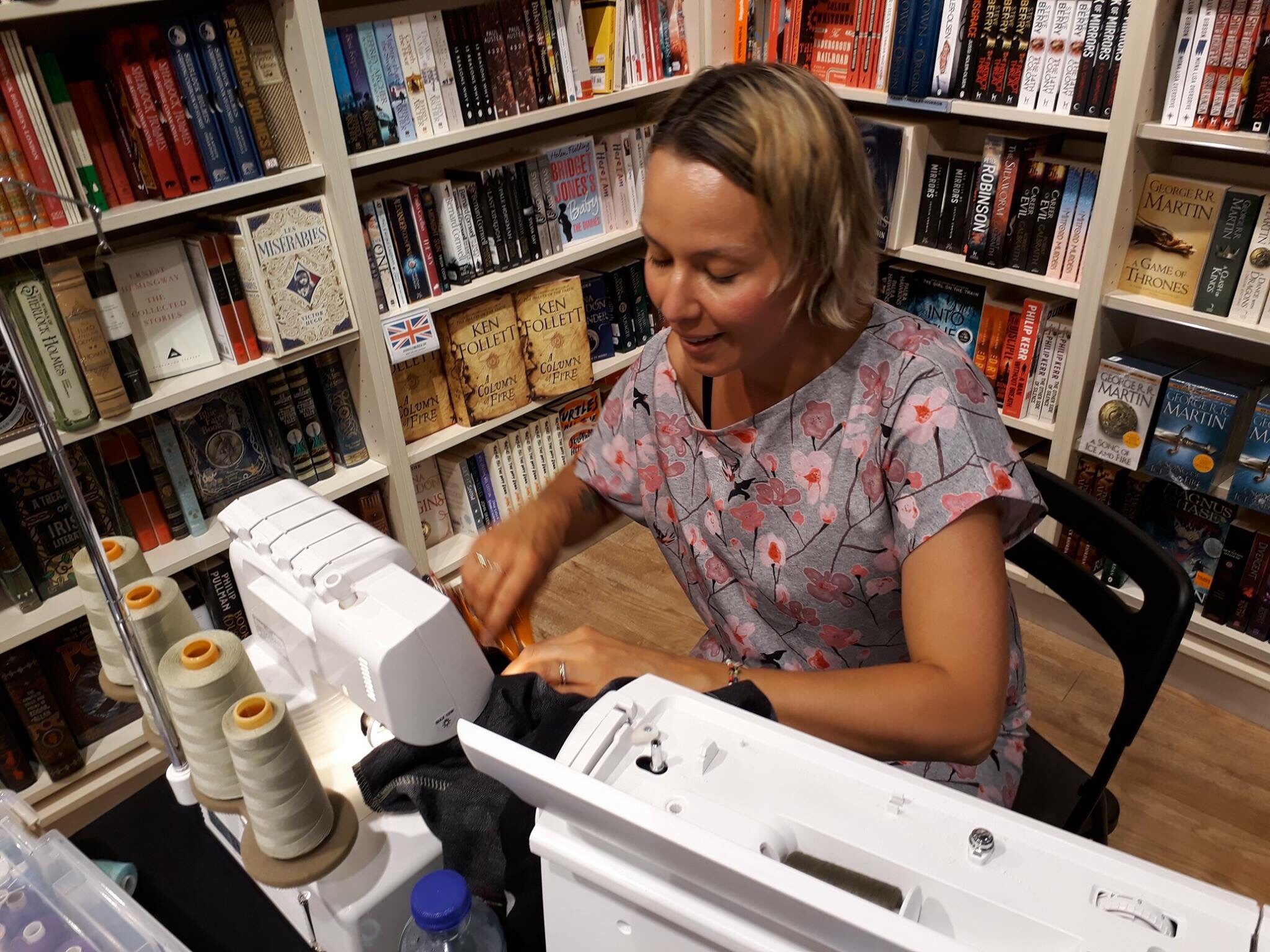 I recently did a little sewing marathon in the local bookshop. In 2 hours i managed to cut and sew 6 and a half styles from my book. And also chat a bit to the ladies who came to look. Quite proud of that actually, and then it was also just a lot of fun. Would really like to do that again some other time 🙂
This timelapse video gives a good idea of how quickly it all went.
——
Som et lille sjovt markedsføringsevent for Smart i en fart-bogen holdt jeg sidste lørdag en to-timers-sy-marathon hos den lokale Arnold Busck boghandel. De havde stillet flot op med borde i butikken, og jeg havde pakket symaskine, overlocker og en hel masse stof.
Jeg havde taget stof med til at sy 12 styles, for det var åbenbart realistisk i mit hoved. Haha. På to timer. dvs 10 minutter til hver model – inklusiv snak med dem der nu måtte komme og kigge.
Sådan gik det ikke helt.
Men tæt på. Jeg fik syet 6 og en halv model fra bogen færdig på de to timer.  Det synes jeg faktisk var meget godt, når jeg tænker over det. Det er da Smart i en fart-syning, når det er hurtigst.
Det var derudover virkeligt hyggeligt med de flinke damer og piger, der kiggede forbi, og så var det bare en meget sjov udfordring for mig selv.
Alan satte et kamera op og filmede en timelapsesekvens af de to timer. Man kan ikke se så vældig meget, men alligevel giver det lige en ide om, hvor hurtigt det kan gå. Se med her!