The 4 to 5 creativity challenge – welcome
#4to5creativity
Hi guys. I do not know about you, but this working from home/home school/home office scenario is getting a bit tough for me.
The work computer is on – or at least visible all day, because until yesterday it was in the middle of the dining room, now at least it has been moved into my office. And with the girls doing school for work on their screens as well, the days feel so similar. There are no fun things in the calendar, just the same schedule for every day pretty much. And even though we do everything we can to make the everyday cozy and nice, the week just happens and goes by super quick.
The Christmas holiday was so awesome because we did so many creative things. We had time for crafting together, I did some book writing, and I also had lots of time for creativity on my own. I did so much batch working for the blog and the YouTube channel, and it was the best.
Making the 4 to 5 creativity time work for you
Now the everyday is here, and I am in a slump. And my craft room is just a mess that is not used.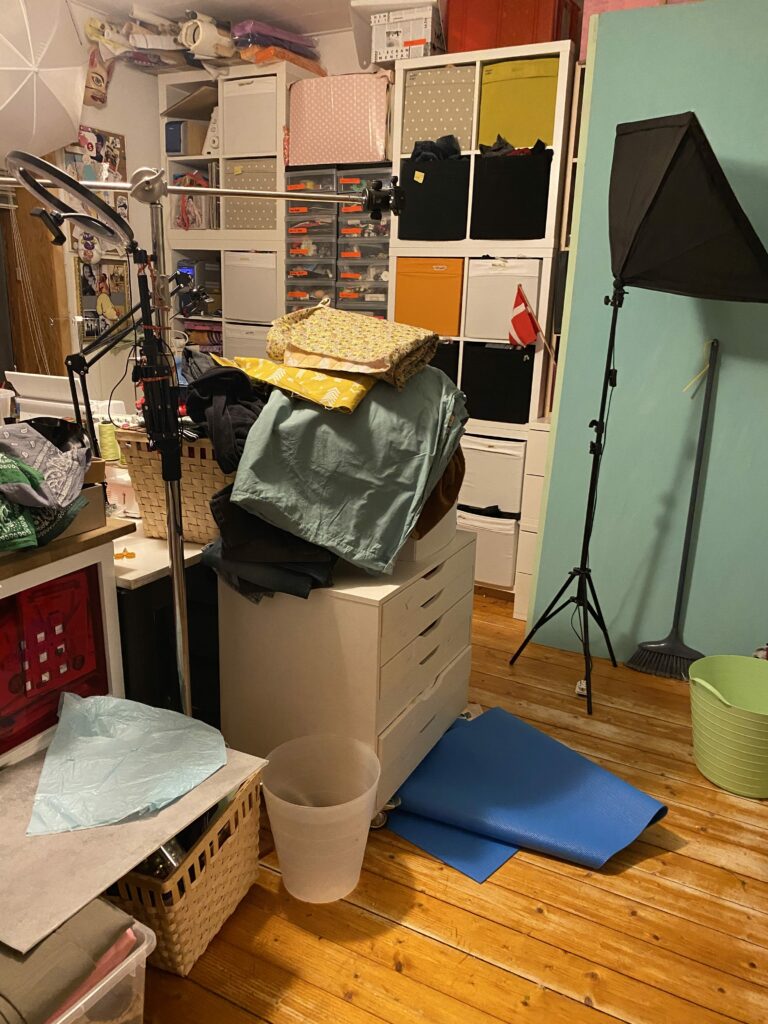 The day is over so fast, even though we rarely have any plans past 4 pm when my workday is over. We just chill, eat, watch tv and do lots of hygge. And its lovely! Do not get med wrong. But I miss being more creative, and I feel like there is time, if I just prioritize it. And perhaps I do not start much, because I feel like my projects need a lot of time. But I need to figure out how to make things, when I only have a little bit of time too.
My kids are big – so they can either join me or do all the fun things they like to do, my husband can cook sometimes too, and there is no excuse why I should just sit on my phone after 4 o clock, not knowing what to do with myself before dinner needs to get started. So that is why I am starting the 4 to 5 creativity slots. I usually think that there is not time to do anything, so there is no point, but of course there is! Just 20 minutes doodling or knitting is still so much better than nothing.
The 4 to 5 creativity is an hour time slot – or sometimes a little less, perhaps sometimes a little more. But I am going to try to see, what can be done in that time. I will not just give up in advance, but try to figure out how to sew, craft, paint or upcycle, even though it is only in the 4 to 5 creativity time slot. Short crafts, like this one, are perfect for when you only have a little bit of time.
Please join in on the fun
Perhaps you want to join me? You might not have exactly that time slot available to you, but perhaps you have another little spot somewhere that you do not use for anything that meaningful? A little room you can make in the calendar for yourself – or with someone close to you. I know I will try to include my family when its possible, because its great to be creative with others as well.
And I do not mean that you should not relax or just hang out, but I just realized that I spent way too much time not relaxing, but not doing stuff either, so perhaps making a little room for myself and being creative in the everyday will make it easier for me to relax later on as well. In stead of just sitting in the sofa dreaming about creative projects I will do when there is time. Which never will happen most likely. I need to start making it happen now.
Use the hashtag #4to5creativity if you manage to get the time for yourself and take some baby steps on the creative journey. I will be sharing my projects as well on my Instagram stories to see how it goes. Some of it might be good, some of it might be crap. But I will try to spend my time doing something I really love instead of just waiting for the evening to begin.
What have I done then?
So far I have made a laptop sleeve, put some pompoms and yarn on a jumper, and finished a blanket. I can´t wait to see how many other things I will get to make.
I hope you will be inspired to make more things too. See more things here on my insta.