How to make a hat from a sweater – the easiest tutorial you will ever see
A lot of us have an abundance of clothes lying around, and I do especially. Having worked in fashion – long time ago, having lived in London and loved Primark (long time ago too) and then working with recycling and sustainability at a recycling plant (not so long ago) I collected so many textiles. Also I am a serious hoarder. Its so hard not to be when you are a maker of things.
I have many jumpers and sweaters in my stock, see another refashion here  and some of them do not fit me, but I just like the material, the color, or the pattern. This mint green sweater was one of those cases. It did not suit me as a sweater, but no way I was going to throw it out after buying it in the second hand shop.
What you need to make a hat from a sweater
A sweater (- to make a hat from a sweater, haha..)
A hat, that already exists, to measure from
Sewing kit
Perhaps some bling
I placed my hat on the sweater, using the bottom hem of the sweater to make the bottom hem of the hat. No sewing for that part then.
Then I marked around the hat, approximately 1 cm from the edge. By placing the hat all the way over to the side, I could avoid sewing that bit too, by keeping the already existing seam.
I sewed that hat together with both a  normal sticth and a zig zag stitch. This is important to make sure the ends of the cut up knitted material does not fray.
And… that is it! That´s how to make a hat from a sweater!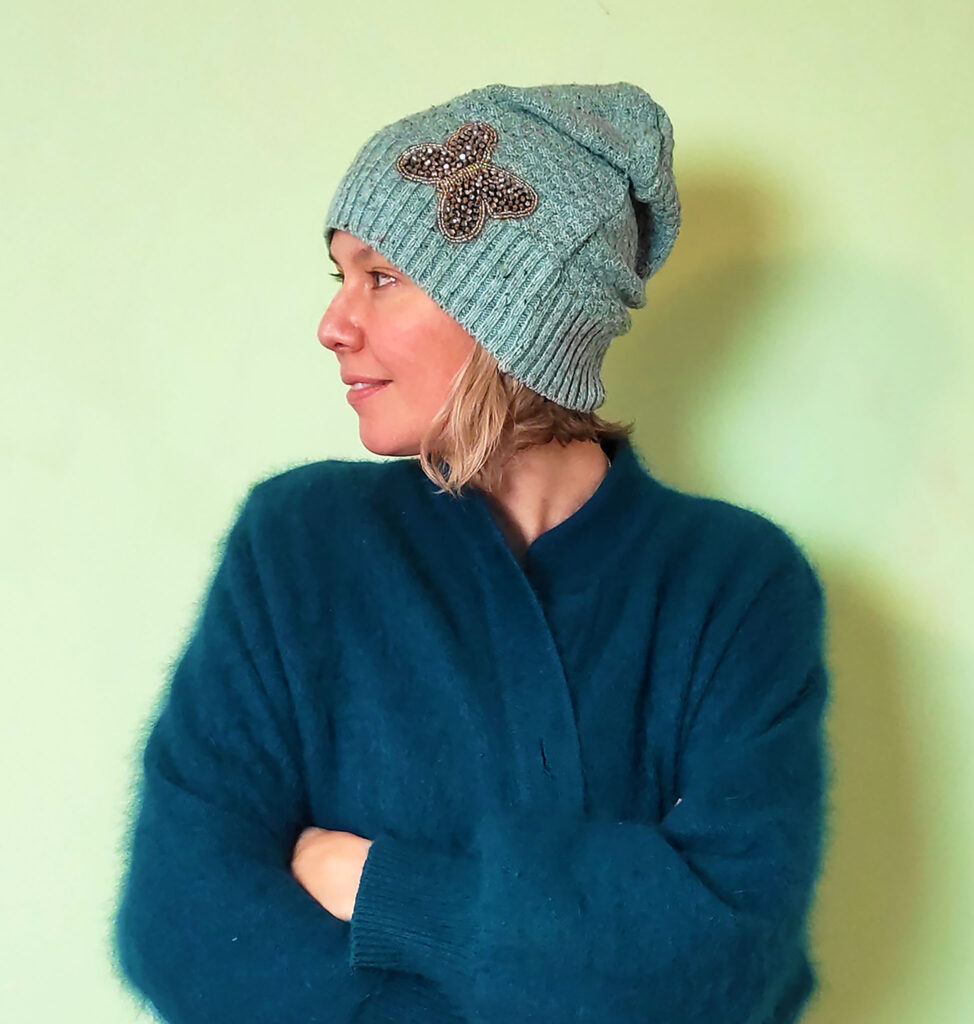 So easy
You can see the video of the make a hat from a sweater DIY here.
Always try the hat on after sewing it. Sometimes the knitted material is a bit more stretchy or loose than the fabric from the original hat, so it will be too wide. Then you can always sew it a bit smaller and cut the extra material away after.
To make this not just a 3 minute craft and to make the hat even lovelier, I added some bling to it with an embroidered patch of shiny beads.
I placed it onto the hat, kept it in place with some pins, and then stitched it on y hand.
It makes it a great mix of a casual slouchy beanie hat with a fancy twist to it.
I hope you like this Diy. I will hopefully soon get to show you things to make with the rest of the sweater, it has been saved for future projects.