A Frida Kahlo fashion DIY has been on my make wish list for a long time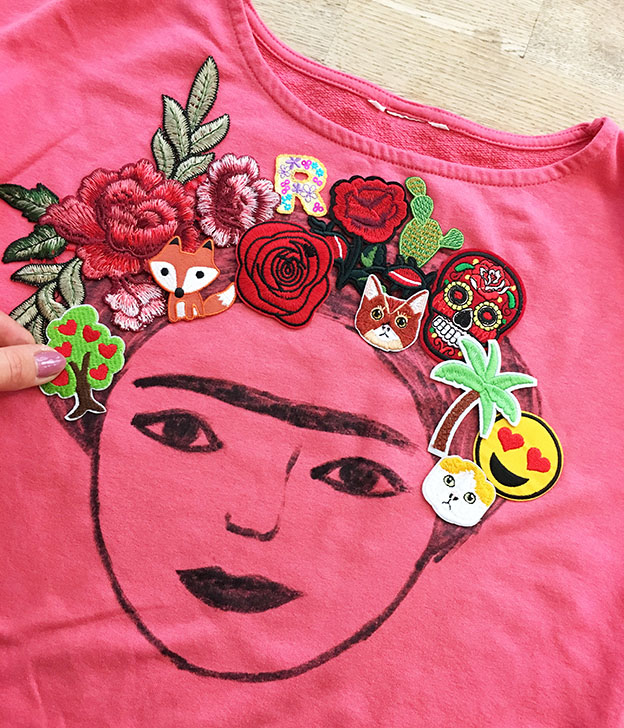 A fashion DIY is always fun. And I adore Frida Kahlo, so do all of us girls here at home. There is something about her, all the bad things she went through in her life, and how she still overcame so much. And then on top of it she made great art. Colorful, vibrant and with lots of attitude. And the monobrow and the cute moustache along with the flowers in her hair. We dig it all.
And we also dig crafting and making, so I had a tribute to her on my list.
It became the Frida Kahlo fashion DIY – the sweatshirts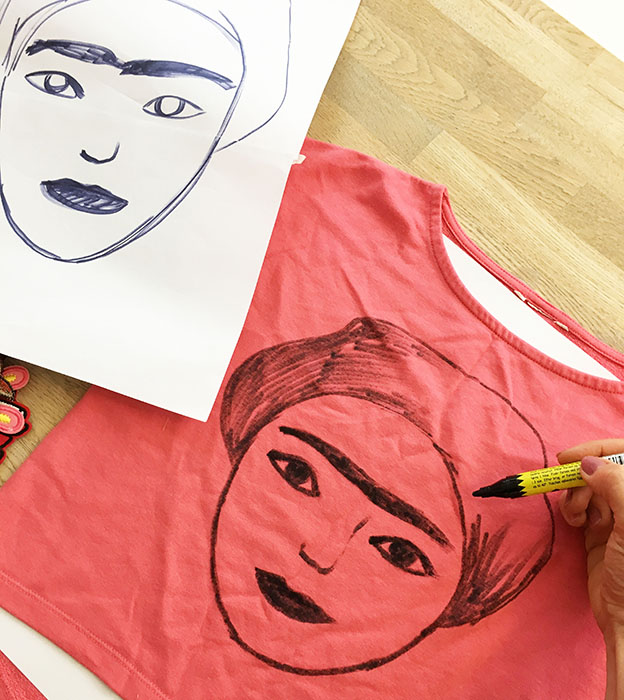 What supplies you need for the Frida Kahlo fashion DIY:
I wanted to use some things that I had lying around in my stash for this project, and that was easy to find luckily.
Some sweatshirts that were once bought from the thrift shop, and now could use some ironing. The colors I chose would look good as a background for Frida Kahlo´s face.
A lot of embroidery patches that I bought once for another project and never used. I had some flowers but also lots of other fun pieces.
And then fabric markers, black fabric markers. These for drawing Frida Kahlo´s face.
What other things you need for the DIY:
Some paper or cardboard/plastic to put inside the sweatshirts while you draw. To practice her face and then put inside the sweatshirts so the marker does not bleed to the other side as you draw.
An iron. To set the marker and make sure it does not wash of. Iron for 5 minutes or more – please check your marker for instructions. And you can also iron on some of the embroidery patches.
A sewing machine – or you can sew by hand. Either for the embroidery patches that have not got a glue back or to secure them extra. I do this just to be safe, that they will not fall off. Then your Frida Kahlo fashion DIY is done!
Frida Kahlo fashion DIY – the perfect sweatshirt
You can see how this all came together in a DIY video on YouTube here.
It was a super fun project. I would recommend it to any fans of Frida Kahlo.
Please do not worry if you are not great at drawing. As soon as you get the flowers on and the eyebrows, you have the iconic Frida Kahlo features, and no one will wonder who it is. It will be clear.
The mustardy colored of the larger Frida Kahlo fashion DIY sweatshirt is for me, and the pink one is for Roxie. It is her birthday real soon and she really likes Frida Kahlo, so I am sure she will be happy for her sweatshirt.
This is Roxie last year dressing up as Frida for Halloween. So adorbs.
If you like YouTube tutorials but about sewing, I have one in a post right here. It is for an easy skirt. Roxie is also part of it.
If you Love Frida too and just think it could be fun to use the idea for something else, I would love to see it as a link in the comments or tag me on Instagram.