It is time for Named Clothing!
For one more of the projects in the #makenine challenge I have written about earlier   and now the time has come for the projects I have done from  Breaking the Pattern by Named Clothing.
Behind this book is Named Clothing –  a Finnish clothing pattern label founded by sisters Saara and Laura Huht. It is such an awesome story, and they are gorgeous front faces for their brand.
I remember when the book came out, it was everywhere in my insta feed, and I could see that a lot of the styles from the book looked really cool.
Then I bought the book later in the year and it is just a beautiful and esthetically super well done book. Lovely photos and vibe.
My choices in the challenge
For this challenge I decided on two stretch styles, two dresses. I just like dresses, and I thought I could make something that I wear a lot.
I made the Ruska dress. A dress you can make in several versions and I made it as a long winter dress and the more summery knot dress.
But I made a few alterations just because I  was limited by the fabric size. The knot on the knot dress I made in double layer, because I did not want the seams to show, but then it got really bulky of course. So I narrowed it a bit, and now it works fine.
The pattern pieces were very complicated – probably because I have been working pattern-free for such a long time. But for the more knowledgeable pattern-sewists out there, I can understand, that it will be a really cool challenge.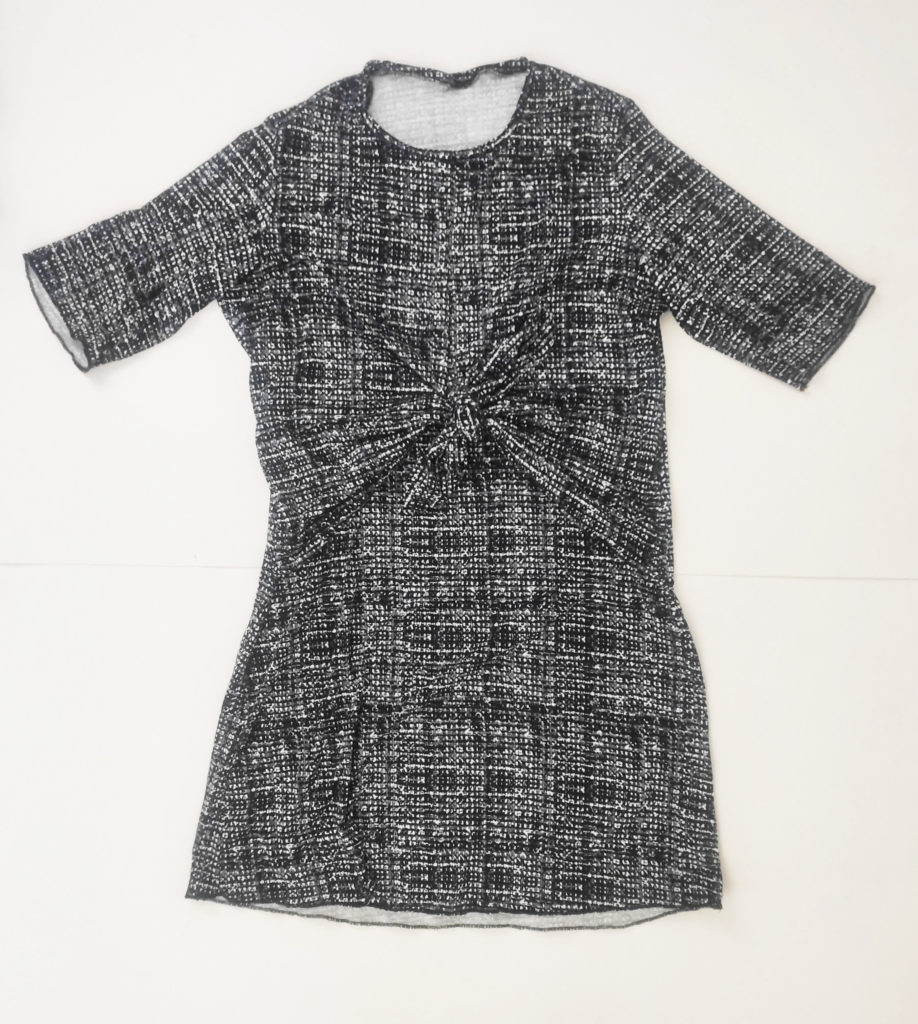 My sewing-impatience
I also learned something about myself. Perhaps I probably already knew this..
I am not good at the taking the time to set in the sleeves properly. Plus I cannot do things at the normal pace, and then it sometimes gets messed up. I also need to properly measure myself. Basically, I just feel like a large, so I make the pattern in size large, and then I need to do a lot of adjusting, because it does not fit properly. That is so typically me.
When I find the right denim material it is my plan to make the Palo jeans from the book. They are awesome colour blocked – or should I write denim blocked jeans. They are so cool and would be a spectacular challenge. Perhaps they would break me, haha.
But these two dresses made were a little bit different from what I normally do, and that was so god to try. Now I am very happy that I have them in my wardrobe.